On its 75th Anniversary, the UN calls on Filipinos to take part in "Shaping our Future Together"
UN Resident Coordinator in the Philippines Gustavo González called on everyone to reinforce solidarity to help Filipinos emerge stronger from COVID-19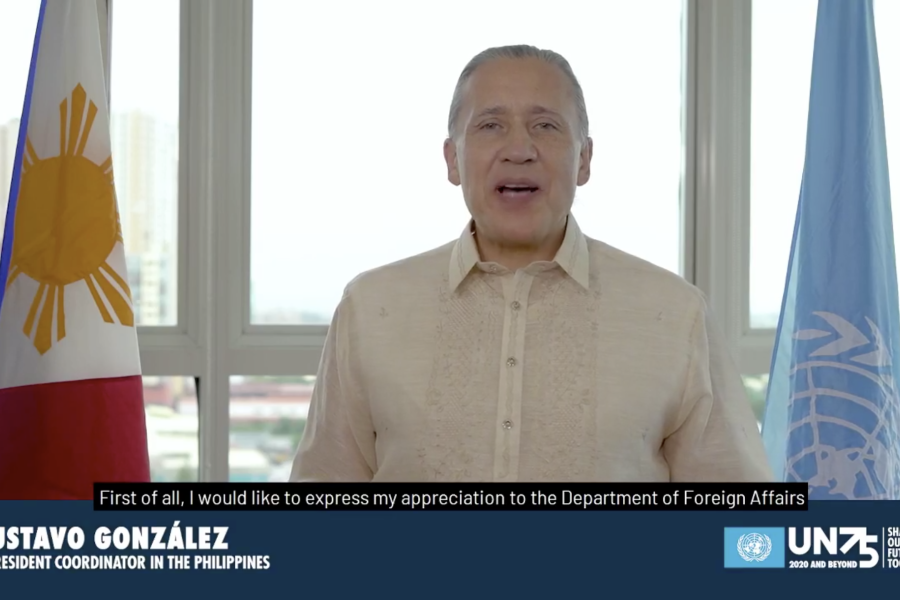 Photo | UN Philippines
23 October 2020 – The United Nations (UN) turned 75 today with a message of solidarity and hope as the world rebuilds from the coronavirus pandemic.
The UN Philippines held a special virtual event today, dubbed "UN75: 2020 and Beyond", was livestreamed from UN Philippines' Facebook, reaching over 31,000 people and generating 5,647 engagements.
Speaking before close to 550 people, UN Resident and Humanitaria Coordinator in the Philippines Gustavo González called on everyone to join efforts and reinforce solidarity to help Filipinos emerge from the COVID-19 crisis stronger and prepared to build more resilient futures.
"One of the most important lessons from this crisis is perhaps the most obvious: we have to work together," Gonzalez said. "No country can do it alone. And we need inclusive collaboration, drawing on the critical contributions of civil society, business, foundations, the scientific community, local authorities, cities and regional governments."
Touting the proud history and strong partnership between the Philippines and the UN, Foreign Affairs Secretary Teodoro Locsin, Jr. said, "The UN helped us build our country and keep it whole; the most recent being its support for the Bangsamoro Organic Law ending a nearly half a century of secessionist war that would tear it apart." He elaborated, "We were there to lay the foundations of the UN; and even more there to make it work," emphasizing the Philippines's commitment to its long-standing partnership.
Calling for a more united front against current and future challenges were guest speakers Tourism Secretary Bernadette Romulo-Puyat; former Undersecretary General Heidi Mendoza of the UN Office for Internal Oversight Services; Resident Coordinator in Cambodia Pauline Tamesis; and Marilyn Manuel, a survivor of the 2003 attack on UN personnel in Iraq and a former assistant to UN Special Representative for Iraq Sergio Vieira de Mello who died in the attack.
Hosts Ria Atayde and UNDP Youth Advocate Darren Espanto led the celebrations with Filipino artists Bayang Barrios, Rice Lucido, Ja Quintana, and Nityalila.
A recording of the celebration is found here.
In the months leading to the event, the UN launched a global dialogue initiative and discussions engaging the youth, civil society, businesses and media organizations and an online survey to gather insights. The findings from the initiative will inspire the UN's plans moving forward.
In the Philippines, the UN hosted a series of virtual "UNStoppable YOUth Sessions" on Facebook that featured dialogues with young people about the future and achieving the Sustainable Development Goals. A nationwide art competition, closing on November 15, has also been launched for visual artists to showcase their vision of the future.
###
UNStoppable YOUth: Shaping the Future We Want Visual Arts Competition
Watch the Recording of the UN75 Live Session last 8 October 2020
Contact:
Tanya Gaurano
Principal Assistant, Office of United Nations and International Organizations Department of Foreign Affairs, unio.div1@dfa.gov.ph
Teresa Debuque
National Information Officer, UNIC Manila, debuque@un.org
UN entities involved in this initiative
Goals we are supporting through this initiative