Story
UN Philippines chief champions diversity as fundamental driver of business success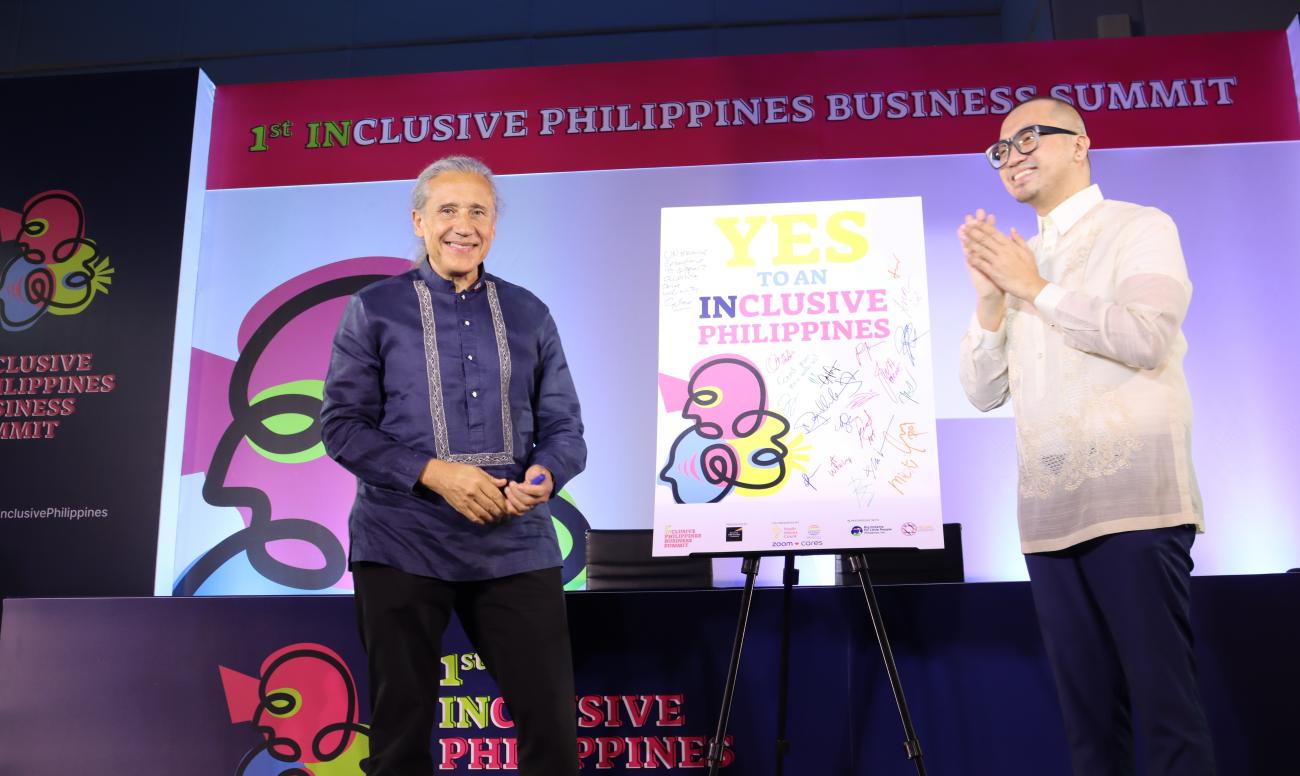 Mr. Gustavo Gonzalez lauds the added value of a diverse workforce at the First Inclusive Philippines Business Summit
Manila, 22 March 2023--At the First Inclusive Philippines Business Summit (1st IPBS) held today at the SMX of SM Aura in Taguig City, Philippines, United Nations Resident Coordinator in the Philippines Gustavo Gonzalez called for diversity as a fundamental driver of success in business. 
Led by the Philippine LGBT Chamber of Commerce, together with Babaylanes, Inc and Youth Voices Count – Zoom Cares in partnership with the Philippine Business Coalition for Women Empowerment (PBCWE) and Big Dreams for Little People Philippines Inc (BDLP), the Inclusive Philippines Business Summit (IPBS) is a multisectoral platform to bring forward the transformative role of businesses in achieving genuine socio-economic inclusion where no one is left behind.
This Summit brought in representatives across various marginalized groups, from persons with disabilities (PWDs) to persons engaged in the informal economy; to entrepreneurs and business innovators representing the business excellence of women, LGBT+ people, young people, and many more.
The objectives of the 1st IPBS is to inaugurate the Inclusive Philippines platform, which will work towards crafting a unified roadmap for an inclusive Philippines; raise awareness about the need for a multi-sectoral approach to inclusivity; become a collaborative incubator for inclusive businesses; and provide an opportunity for brands and leaders to elaborate key issues, review business cases, and expand their knowledge base in relation to the dynamics and realities of inclusion.
The First Inclusive Philippines Business Summit envisions to reduce systematic differences in opportunities related to population characteristics such as age, SOGIE, income, place of residence or ethnicity through the transformative role of Philippine businesses. 
The message of the UN Philippines Resident Coordinator Gustavo Gonzalez follows:
No doubt that you're making history.
Someone said that "historic moments are the result of courage but also of high doses of perseverance". I can't imagine all the efforts and fighting invested to get this powerful platform up and running.
Nelson Mandela said: "It always seems impossible until it's done". So, the First Inclusive Philippines Business Summit is now a reality.
Non-discrimination is the bedrock of diversity and inclusion. Diversity is a fundamental driver of success in business. It means being able to better reflect and understand your clients' needs and expectations. It means incorporating a more comprehensive  perspective of markets.
It also means accessing to a much broader pool of talent and creativity.
The added value of a diverse workforce is something I experience every day in my work with the United Nations. But don't trust me. It is also something very well reflected in the hundreds of studies mentioned by the Harvard Business Review and Forbes Magazine, among others.
With such evidence, it is a paradox that members of the LGBTIQ+ community, persons with disabilities, Little Persons, and women still face multiple and different forms of discrimination in business contexts.
The United Nations has developed the "Principles on Business and Human Rights", which provide guidance for the conduct of businesses and outlines best practices for ensuring a diverse and inclusive business environment.
I want to highlight here a few points based on these principles as it relates to today's Summit.
Number One, businesses should respect human rights at all times. While Governments are ultimately responsible for human rights implementation, businesses have a fundamental role to play by putting in place policies that are aligned with human rights standards; by ensuring that such policies explicitly respect the rights of all; and by making available and accessible remedies for grievances related to discrimination.
Number Two, companies should actively seek to eliminate discrimination within the workplace. This includes ensuring that inclusiveness is considered in the whole cycle of a job: from the hiring processes, the determination of salaries and the opportunities for training, to promotion policies and retirement benefits.
For example, this would mean extending the same benefits to partners, spouses, children and dependents regardless of sexual orientation; providing reasonable accommodation for persons with disabilities; adopting policies to respect the rights of intersex persons at work; and of course, respecting the privacy of all by not sharing information with third parties.
Number Three, companies should take proactive measures to create a supportive physical and psychological environment within their workplaces. Inclusiveness can't just be in rules and procedures but also be reflected in the working environment.
Number Four, companies can in some cases use their leverage to influence the behaviors of others, including business partners, suppliers or customers, whose practices may, intentionally or not, discriminate against others.
Number Five, companies should openly stand for diversity, by making public their business inclusive policies and by engaging in public forums such as the one taking place today. Diversity should be genuinely embraced.
As you may remember, in 2015, UN Member States -the entire world- agreed upon a set of 17 Sustainable Development Goals (SDGs) with a promise to "leave no one behind".
Fulfilment of these goals, which include tackling social and economic discrimination and marginalization, depends on the collective efforts of governments and private actors.
By being part of this First Inclusive Philippines Business Summit you have put yourself and your businesses at the forefront of transformative process. You are making history.
And I'm honored to be part of this journey.
Thank you.
UN entities involved in this initiative
RCO
United Nations Resident Coordinator Office