IOM, German and UK Government hand over medical vehicles, cold chain equipment to support COVID-19 response in BARMM
BARMM receives critical medical vehicles and equipment from IOM, Germany and UK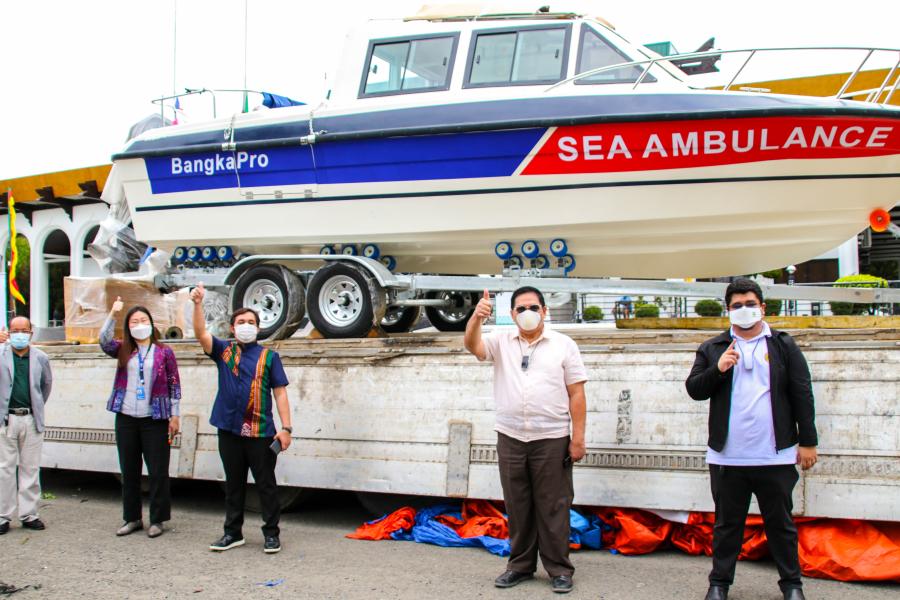 Photo | IOM
MANILA, 21 January 2021— The International Organization for Migration (IOM) together with the British Embassy Manila and German Government handed over critical medical vehicles and equipment to the Ministry of Health (MOH) in the Bangsamoro Autonomous Region in Muslim Mindanao (BARMM) to support the region's COVID-19 response.
COVID-19 transmission continues to bring challenges in the region with 3,744 cases confirmed, of which 155 are active and 142 have died as of 17 January according to the BARMM Inter-Agency Task Force (IATF) on COVID-19. With one of the highest poverty rates in the country, the lack of health equipment and supplies poses a significant strain on already under-resourced local health facilities. The region's geography, with 3 island and 2 mainland provinces, has also posed logistical challenges in the transport of COVID-19 specimens to the region's only testing facilities in Amai Pakpak Medical Center, Marawi City, Lanao del Sur and the Cotabato Regional and Medical Center (CRMC), Cotabato City, Maguindanao.
The pandemic also comes during a critical time in the Bangsamoro region as they continue to navigate a delicate normalization process. Years of underdevelopment and current transitional shifts leave BARMM less prepared for a health emergency than other parts of the country. "Much has been achieved in the course of the course of the peace process, but a lot remains to be done, and I commend BTA for ist successful work. Germany will remain comitted in ist support of the peace process," says German Ambassador to the Philippines Anke Reiffenstuel.
In response to these challenges, IOM Philippines continues its work with the Bangsamoro government through its "Prepare, Prevent, Protect" (PPP) programme to mitigate the impact of COVID-19 on most vulnerable and conflict-prone communities in Mindanao. The program ensures that BARMM's regional agencies and local governments are better prepared to manage the socio-economic and security risks induced by COVID-19 (PREPARE), BARMM local health care response for the prevention of COVID-19 transmission is safer and more efficient (PREVENT), and the most vulnerable segments of the displaced communities are better protected from increased social and physical risks induced by COVID-19 (PROTECT).
Deputy British Ambassador to the Philippines Alastair Totty said, "Stepping back and looking at latest progress globally rolling out vaccines, it is clear that we are at last turning the corner. There is now real hope for one and all, especially with more equitable access to vaccines for low and middle income countries through the COVAX facility for which the UK is the largest single donor. It is my hope that this humble contribution will make a real difference towards a healthy, safe, and COVID19-free BARMM. The UK government has long been and shall remain a loyal partner for the Bangsamoro community."
The event, held in the Bangsamoro Government Center in Cotabato City and streamed on the Bangsamoro Government's online platforms, was attended by BARMM's Chief Minister Hon. Ahod B. Ebrahim, Deputy Head of Mission of the British Embassy Daniel Pruce, German Ambassador Anke Reiffentuel, and IOM Philippines Chief of Mission Kristin Dadey. Items handed over to the MOH-BARMM included solar generator sets, land and sea ambulances, bio-safety refriegerators, and cold chain vehicles to support safe and effective COVID-19 prevention and response in the region.
"IOM, in partnership with MOH-BARMM and Integrated Provincial Health Offices (IPHOs), have strived at enhanced logistics and frontline health workers' capacity in cold chain management. Through the Migrant Health Unit (MHU) in Mindanao, IOM will continue to work with BARMM to contribute to preventing the spread of COVID-19 and supporting vulnerable communities most affected by the pandemic," Kristin Dadey, IOM Philippines Chief of Mission.
The provided vehicles and equipment will be used in storing and transporting specimens and medicines as well as transferring critical patients more efficiently across BARMM. These vehicles and equipment will also be utilized for various health needs in the long-term, such as vaccination campaigns for Polio and Measles as well as COVID-19 once available.
Hon. Abdulraof A Macacua, Minister and Executive Secretary of BARMM expressed his thanks, "These equipment will surely help, particularly the Ministry of Health, the delivery of quality health services. With the ongoing pandemic, services have been hampered and limited. We are grateful that IOM chose to help and aid the Bangsamoro people in BARMM."
UN entities involved in this initiative
IOM
International Organization for Migration