IOM and Japan to reinforce COVID-19 prevention and response in BARMM
The IOM-Japan project also hopes to help bring peace, security, and stabilization to BARMM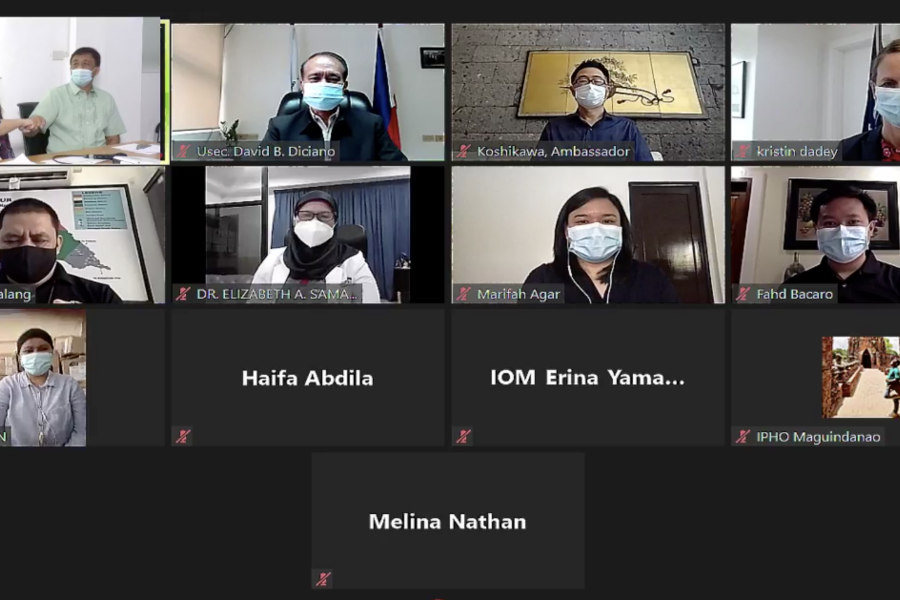 The UN Migration Agency, International Organization for Migration (IOM), and the Government of Japan launched on 13 April 2021 a project to strengthen the Bangsamoro Autonomous Region in Muslim Mindanao (BARMM)'s preparedness and response capacity for effective COVID-19 prevention and control. The Government of Japan has provided more than USD 2.7 million to support the IOM's COVID-19 response.
Through this project, IOM will conduct a series of health and emergency preparedness interventions in partnership with the local government of BARMM to enhance the readiness of the region for the COVID-19 vaccination roll-out through technical support and knowledge transfer, to better equip the local health authorities to undertake adequate testing, cold chain management and patient transport in response to COVID-19, and to strengthen the communities' disaster risk reduction and management capacity in the context of health response.
BARMM's Chief Minister, Hon. Ahod B. Ebrahim, expressed his gratitude to the Government of Japan and IOM for the support at "one of the difficult times in the region's recent history", and said "Our shared fight against the COVID-19 is far from over. The project will help BARMM ease the path and address the effects of COVID-19."
"The project comes at a very opportune time, as we confront COVID-19 and prepare for the vaccination programme. The initiatives we start today will clear the way for a healthier and stronger Bangsamoro. Thus, the right combination of planning, know-how, infrastructure, and partnership must be in place," said Japanese Ambassador to the Philippines H.E. Kazuhiko Koshikawa, emphasizing that the project is reflective of Japan's commitment to the country's peace process.
BARMM is by far the most impoverished and marginalized region, with the country's highest poverty rate. The pandemic has amplified the pre-existing vulnerabilities of the communities. Years of underdevelopment and conflict have left BARMM less prepared for health emergencies than other parts of the country. Communities in geographically disadvantaged and isolated areas, including island provinces of BaSulTa, face additional challenges of inaccessibility and insecurity, which hamper their access to healthcare services and public COVID-19 response activities.
"COVID-19 continues to pose a significant challenge to the whole country, and it is crucial that we ensure vulnerable communities are not left behind in this unprecedented health crisis," said Kristin Dadey, IOM Chief of Mission in the Philippines.
The pandemic also comes at a tumultuous time for BARMM as it is undergoing a delicate transition and normalization process, which poses significant constraints to the transition authority and the national government's efforts on achieving milestones of the peace process as they shift their already stretched resources to COVID-19 response.
Dadey added, "The project will not only contribute to supporting vulnerable communities most affected by the pandemic, but it will also help bring in peace, security, and stabilization to the region." 
UN entities involved in this initiative
IOM
International Organization for Migration
Other entities involved in this initiative