Story
UN Philippines chief cites private recruiters' role in protecting migrants' labor and human rights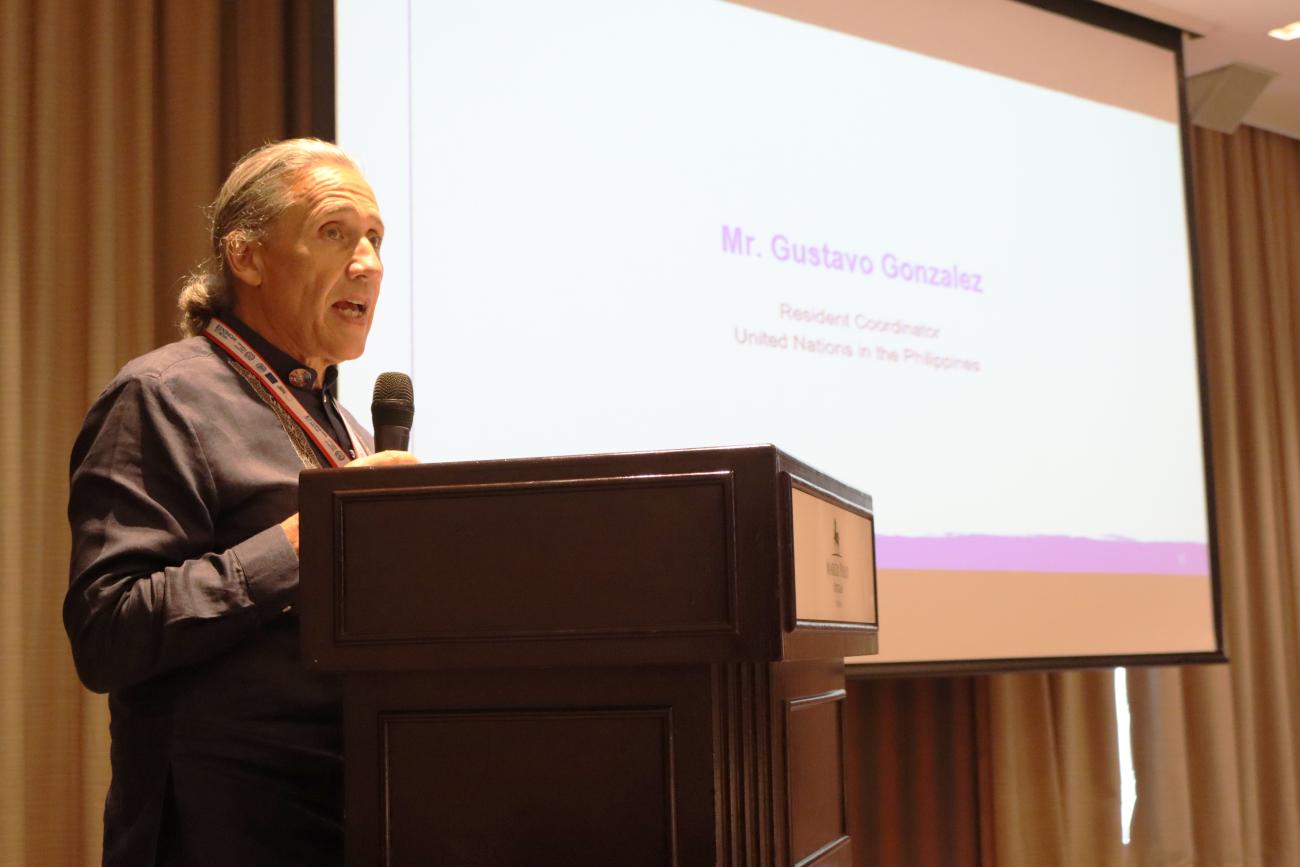 Mr. Gustavo Gonzalez addressed "Achieving Fair and Ethical Recruitment: Improving Regulation and Enforcement in the ASEAN Region"
Manila, 27 September 2022--United Nations (UN) Resident Coordinator Gustavo Gonzalez today affirmed the role of private recruiters in protecting migrant workers against human and labor rights violations. At a training called "Achieving Fair and Ethical Recruitment: Improving Regulation and Enforcement in the ASEAN Region," Gonzalez called on government partners to put mechanisms in place to uphold, promote, and protect the rights and welfare of migrant workers, including ensuring the effective regulation of private recruiters.
Aside from Gonzalez, Secretary Susan "Toots" Ople of the Department of Migrants Workers (DMW) and Khalid Hassan, Country Director of the ILO, addressed participants to the meeting. 
Gonzalez said that the United Nations Country Team (UNCT), through the UN Migration Network, supports the Government of the Philippines in its commitment to priority Objectives of the Global Compact for Safe, Orderly, and Regular Migration (GCM) - in particular, Objective 6 (Facilitate fair and ethical recruitment and safeguard conditions that ensure decent work). The Philippines is one of the GCM champion countries. Through a whole-of-government, whole-of-society approach, the Philippines advances towards the achievement of the GCM as assessed by the International Migration Review Forum (IMRF) to place the rights of migrants at the heart of its efforts.
Gonzalez lauded the new DMW for prioritizing the improvement of regulatory processes, including the system for rewards and incentives while pushing for a stronger regulatory hold. He cited the leading role of the Philippine government, through Undersecretary Hans Leo Cacdac, during the Technical Meeting of Experts in September 2016, which developed the General Principles and Operational Guidelines on Fair Recruitment and which was subsequently adopted by the ILO Governing Body in November 2018.
Gonzalez noted the support provided by the UNCT during the formulation of the Implementing Rules and Regulations (IRRs) of the DMW Act. A Multi-stakeholder Consultation Series on the DMW and Philippine Migration Governance was organized by the Department of Labor and Employment – Institute for Labor Studies (DOLE-ILS) and the ILO through the BRIDGE Programme and the Safe and Fair Programme, in collaboration with IOM and UN Women.
The training was organized with the collaboration of the following:
Mr. Nilim Baruah, Regional Migration Specialist, ILO-Regional Office for Asia and the Pacific
Ms Miriam Boudraa, International Training Centre of the ILO (Turin)
The following government agencies participated to the training:           
Ministry of Manpower – Indonesia
Board of the Protection of Indonesian Migrant Workers – Indonesia
Ministry of Transportation – Indonesia
Ministry of Human Resources – Malaysia
Ministry of Expatriates' Welfare and Overseas Employment – Bangladesh
Department of Migrant Workers – Philippines
National Maritime Polytechnic – Philippines
International Labor Affairs Bureau - Philippines
Overseas Workers Welfare Administration – Philippines
UN entities involved in this initiative
ILO
International Labour Organization