Story
UN Philippines chief calls for gender responsive recruitment and reintegration in migration governance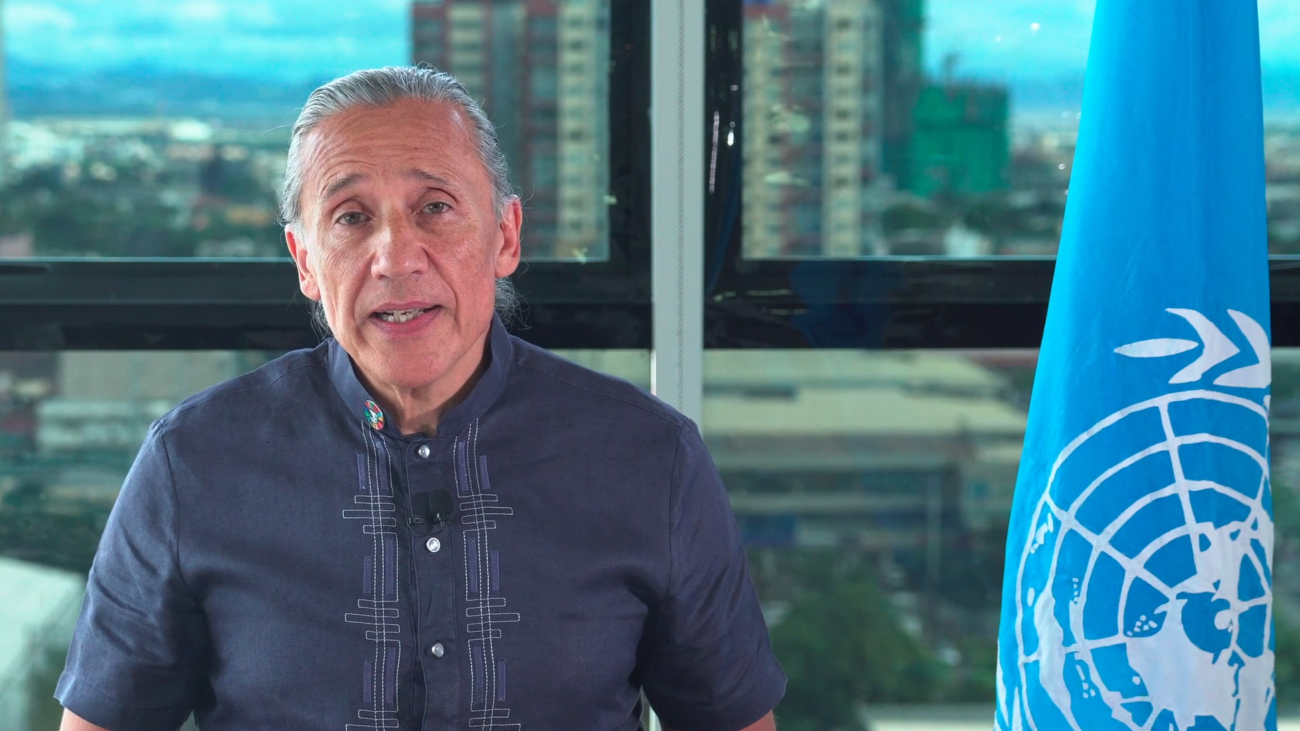 Human mobility for employment can be an empowering experience, and the fact that this option is available to women is worth celebrating
United Nations (UN) Resident Coordinator Gustavo Gonzalez delivered the following message for the high-level forum on Gender-responsive and Sustainable Recruitment and Reintegration in Philippine Migration Governance, on 14 December 2022:
Thank you for joining us in this High-level Forum on Gender-responsive and Sustainable Recruitment and Reintegration in Philippine Migration Governance.
This is the culmination of a series of forums organized by the Bridging Recruitment to Reintegration in Migration Governance Programme, or BRIDGE, in partnership with UP-CIFAL Philippines to bring together the wealth of knowledge and experience of diverse migration actors on issues surrounding gender and labor migration in the Philippine context.
The BRIDGE Programme is a joint programme implemented together by UN Women, the International Organization for Migration (IOM), and the International Labor Organization (ILO) with support from the Migration Multi-Partner Trust Fund (MPTF), to help the Philippine public sector, civil society, and industry implement the Global Compact for Safe, Orderly, and Regular Migration (GCM).
In particular, it aims to support the Philippines, a GCM champion country, in delivering in a gender-responsive manner on Objectives 6 and 21 of the Compact, on fair and ethical recruitment, decent work, dignified return, and sustainable reintegration.
The Philippines is a global outlier in that it has more women than men working overseas. The 2021 Survey on Overseas Filipinos released earlier this month found that 60.2 percent of overseas Filipino workers (OFWs) were women, a further deepening of the trend that scholars have called the 'feminization' of Philippine labor migration.
Whether we celebrate this trend or worry about it is a difficult question. On the one hand, human mobility for employment can be an empowering experience, and the fact that this option is available to women is worth celebrating. On the other hand, women migrant workers continue to be concentrated in precarious jobs, with the same survey showing that 64.8 percent of women OFWs were in elementary jobs, such as domestic work.
Meanwhile, the global labor migration landscape is still reeling from the impact of COVID-19. More than a million OFWs have returned since the start of the pandemic. A survey by the Scalabrini Migration Center commissioned by IOM as part of BRIDGE estimates that around 59 percent of them intend to remigrate, and around 4 percent have already been able to do so. That means hundreds of thousands more are looking for ways to return abroad for work.
These returnees as well as would be OFWs face a global labor migration landscape in flux amid digital transformation and the climate crisis.  Digital technologies are changing many industries, automating many jobs. The climate crisis and the need to decarbonize industries presents its own challenges in terms of ensuring a just transition, as many extractive and high-emissions industries employ migrant workers.
Women stand to face heightened disadvantage as the jobs of the future will require significant IT and technical skills. Male OFWs are 10 times more likely than female OFWs to occupy technical jobs such as technicians, plant and machine operators and assemblers, according to the survey.
This is why the BRIDGE Programme has incorporated digital skills training in its reintegration interventions, partnering with Connected Women to train more than 60 OFWs and OFW returnees in digital annotation. It also partnered with ATIKHA Overseas Workers and Communities Initiative to train 30 OFWs and OFW family members in Iloilo in agroforestry, recognizing the need for more regenerative economic models to address our environmental predicament.
Today, we will hear how other migration agencies and actors are tackling the diverse challenges in the labor migration space. Importantly, we will also hear from an OFW returnee, who will share about her own reintegration project, which simultaneously addresses the issue of food security.
I would like to thank Dr Edna Co and her team in UP-CIFAL Philippines for enabling this vital conversation to take place by organizing the dialogue in partnership with the BRIDGE Programme.
In closing, I wish to greet our OFWs and other Filipino migrants an advance Happy International Migrants' Day. We hope our collective efforts help you to navigate your migration journeys toward the "matatag, maginhawa, at panatag na buhay" you, along with your fellow Filipinos, long for. Salamat at mabuhay!
UN entities involved in this initiative
ILO
International Labour Organization
IOM
International Organization for Migration