Story
From arms to farms: How former combatants and Indigenous Peoples formed a community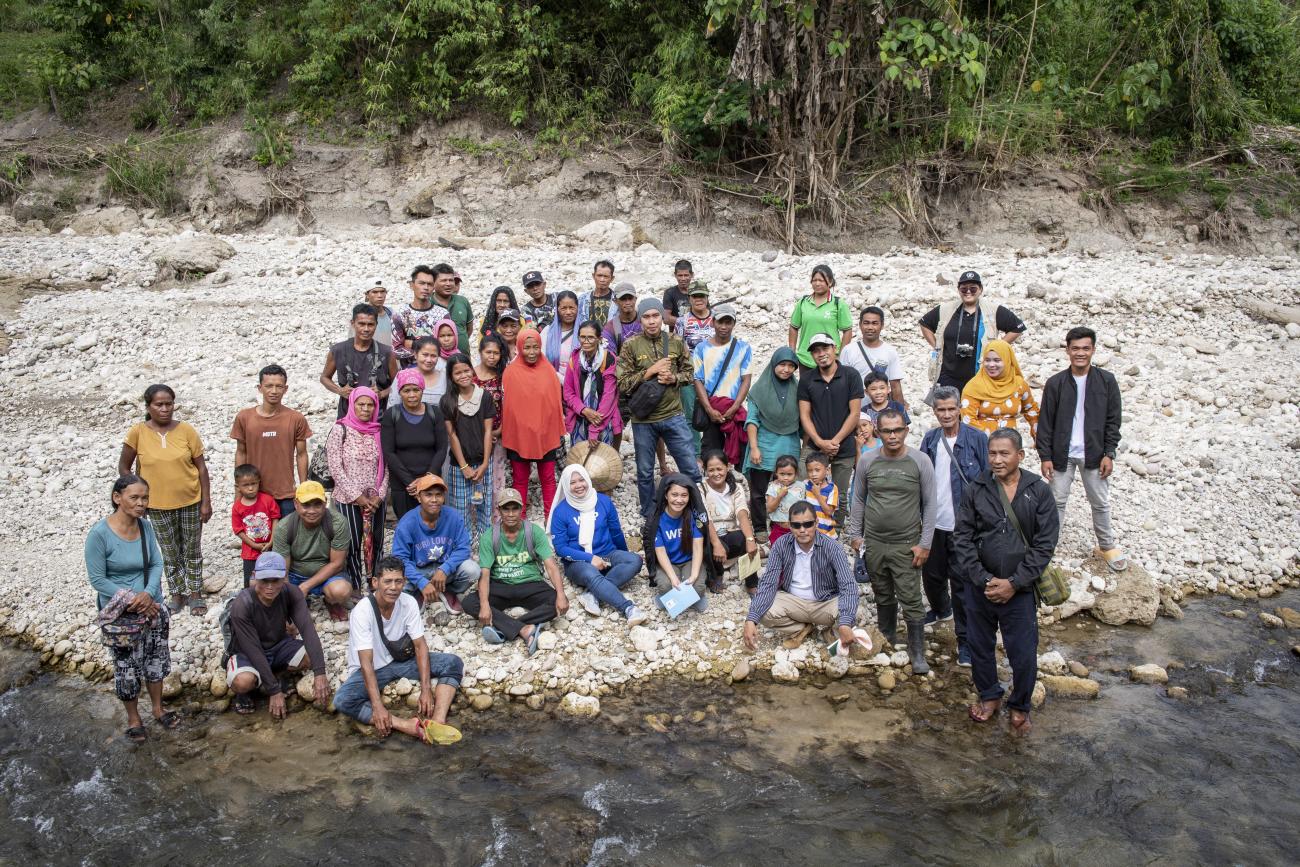 For International Day of the World's Indigenous People, WFP shares how the Teduray people have worked with former combatants to form an agricultural cooperative
Inadequate rule of law used to prevail in over 200 hectares (ha) of the ancestral land of the indigenous Teduray people. After nearly five decades of conflict between the Government and autonomist groups, comprehensive peace agreements were signed in 2014 and resulted in a transitionary government. Some combatants have now given up their arms to farm, by forming their agricultural cooperative together with the indigenous community.
DATU ODIN SINSUAT, MAGUINDANAO — The road to Camp Suran is as hard as how life used to be.
Reaching this community requires over an hour for any vehicle to wade through meters-high waves, generated by unpaved roads, deep trenches, and rocky terrain. It becomes unpassable on rainy days, and the mud and puddles keep vehicles stranded.
Despite these conditions, community members are determined to reach Camp Suran to tend to their farms, fishponds, and livestock – the livelihoods they built through the Food Security and Nutrition Convergence, initiated by the United Nations World Food Programme (WFP) and the Bangsamoro Autonomous Region in Muslim Mindanao (BARMM).
The food security convergence model entails inter-governmental collaboration, to collectively achieve food security goals. WFP is working closely with the transitionary government of BARMM to bring government services to where it is needed the most.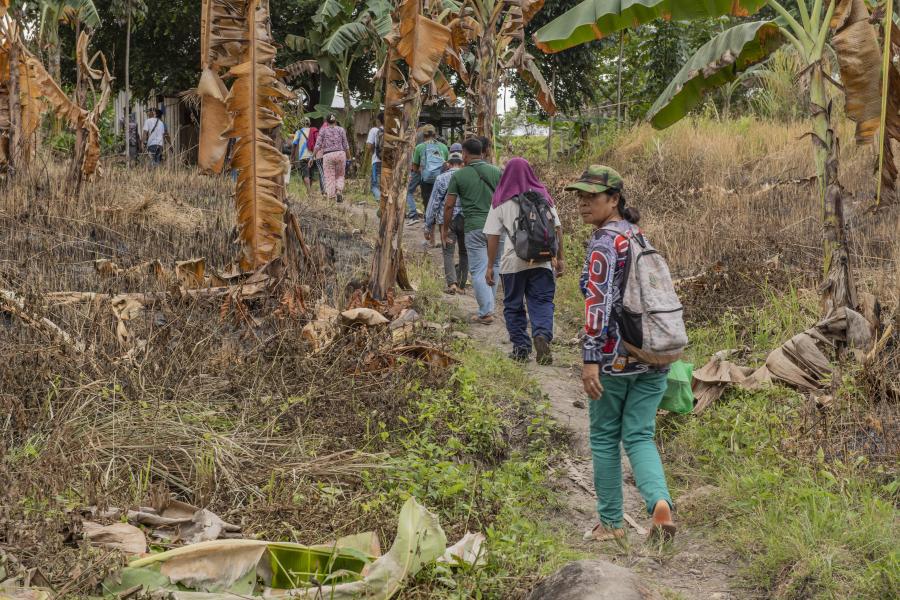 "Before, my people avoided this area even though it is our ancestral land," says Rajah Mamalo Mohamad Linas, Tribal Chieftain in North and South Upi. "There was no peace, order, trust, or confidence in one another. There was nothing here except fear."
Due to long-standing conflict, the indigenous communities in Camp Suran grappled with poverty and low access to essential social services, in addition to extreme weather events. Malnutrition continues to be a pressing problem, with around 46 percent of children in BARMM being below the average height for their age. According to WFP's Fill the Nutrient Gap analysis, 58 percent of households in the region are unable to afford a healthy diet.
After the signing of comprehensive peace agreements in 2014 and the establishment of the transitionary BARMM Government in 2019, food security has become a government priority, to ensure access to affordable and nutritious food.
And with the coming of peace, some combatants are giving up their arms and now actively participate in community building.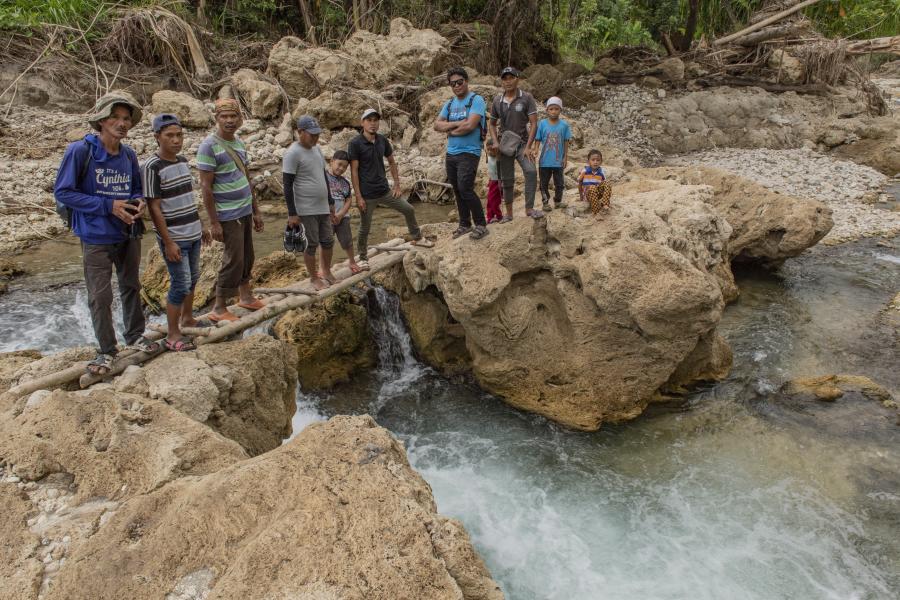 "Before, it was just us here. The Teduray were scared to approach us because we had guns," says Abdulbasir Calim, community leader and former combatant. "But thanks to WFP and the BARMM Government, we started learning about one another. Now peace is here, and we are determined to achieve the same goals and make our livelihoods better."
As part of WFP engagement across the Humanitarian-Development-Peace Nexus, the agency not only aims to enhance food security, boost agricultural productivity, and foster sustainable livelihoods, but plays a pivotal role in promoting peace and contributing to the development goals in the BARMM. To that end, communities come together to participate in agricultural planning, with partners and the local government.
Camp Suran used to encounter flooding due to deforestation. As one of the Teduray's traditional sources of income, burning down trees to make charcoal was an inevitable choice to make a living, due to lack of other livelihood sources. To resolve this, WFP conducted Food Assistance for Assets activities such as tree planting for reforestation, community gardening, and construction of farm-to-market roads.
"My people are not burning down trees anymore but are starting to plant more trees. We now have a new way of moving forward," says Rajah Mamalo.
From formerly distancing themselves, the Teduray have now joined forces with decommissioned and soon-to-be decommissioned combatants to form their own agricultural cooperative: the Kayod Ka-Bangsamoro (KKB) Producers Cooperative. Duly registered and accredited by government agencies, the KKB has become a second home to the community. Before going up to tend to their farms, they meet at their main office at the mountain's base to share some refreshments.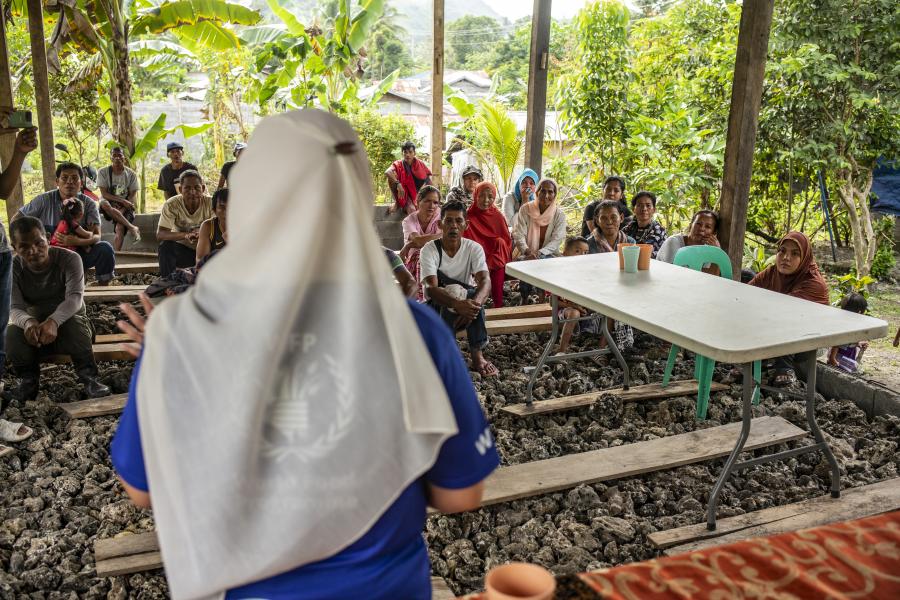 According to Pinky Agustin, Teduray, and the women's association leader, from a daily income of less than 100 pesos (US$2), cooperative members now earn more than double: Up to 300 pesos (US$6).
The convergence enabled government services to reach Camp Suran. Through the efforts of ministries under BARMM, Camp Suran was given seedlings for planting, livestock for farm productivity, and different livelihood training sessions, including vegetable gardening, food processing, and handicraft making.
"We learned so many things from being part of the cooperative. We learned vegetable gardening. We learned handicraft making. We learned cooking and processing snacks like banana chips," shares Pinky.
"What we are holding now is a bolo (farm implement). Sprays. Ploughs. Carabaos. Before, what we were holding were guns," says Calim. "We would not have been able to do it alone. I wouldn't have been able to do it without the Teduray people."
According to Calim, the Kayod Ka-Bangsamoro members have successfully planted 119,000 trees as part of their reforestation efforts and agricultural initiatives. These trees include mahogany, banana, coconut, and coffee. They also maintain fishponds in five sites and hope to cultivate the area for agri-tourism.
"I hope to recommend Camp Suran as a tourist spot in the future! The land of our ancestors has now become more beautiful, more vibrant, and finally peaceful," says Rajah Mamalo.
The World Food Programme thanks its partners for their support. Read more about the WFP's work with indigenous peoples here.
Written by
UN entities involved in this initiative