Story
UNEP honors Quezon City mayor for environmental policy leadership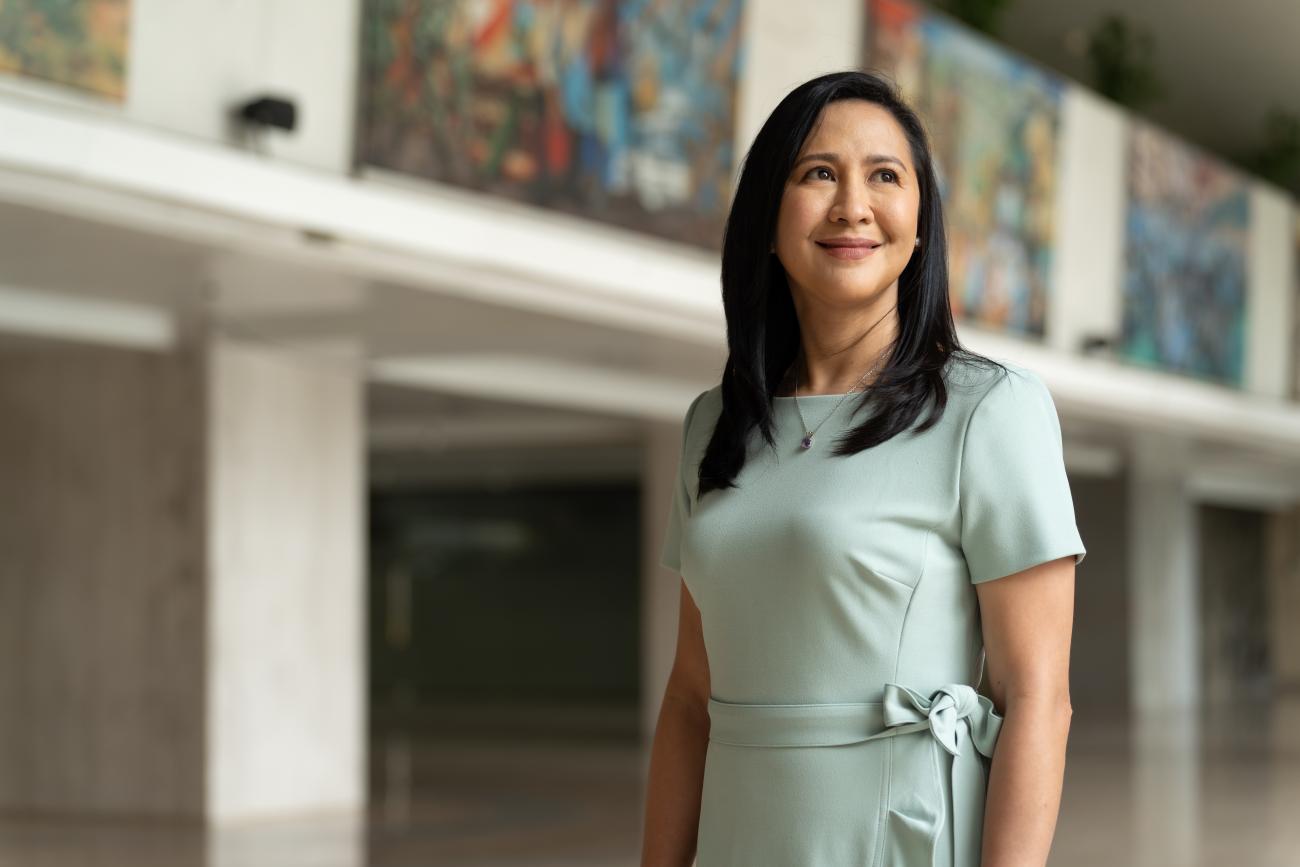 Quezon City Mayor Josefina "Joy" Belmonte's commitment to environmental protection can be traced to the aftermath of the worst storm to hit the Philippines in decades.
When Typhoon Ketsana struck in 2009, it unleashed ferocious downpours and floods that submerged roads and forced residents onto their rooftops for refuge. As the floodwaters receded, they left a river of plastic bags, sachets and other litter in their wake.
That sight left a lasting impact on Belmonte, who successfully ran for vice mayor of Quezon City in 2009 before becoming its mayor in 2019.
"I'm a good governance advocate," Belmonte told the United Nations Environment Programme (UNEP). "Good governance involves good stewardship of the environment."
Only the second female mayor in the history of Quezon City, home to 3.1 million, Belmonte has pursued a raft of policies to end plastic pollution, counter climate change and green the city.
For her efforts to transform Quezon City into an environmental trailblazer, Belmonte has been named the 2023 Champion of the Earth for Policy Leadership, one of the UN's highest environmental honours.
"Mayor Josefina Belmonte's passionate leadership and policy achievements exemplify how local authorities can solve global environmental problems," said Inger Andersen, Executive Director of UNEP. "Cities can be the dynamic engines of change we need to overcome the triple planetary crisis of climate change, nature and biodiversity loss, and pollution and waste – and mayors can help to lead that charge."
Fighting the throwaway culture
Quezon City was the Philippines' capital for 27 years until the title returned to Manila in 1976. Today, it is the country's most populous city and is part of Metro Manila.
Belmonte's connections to this place run deep. Not only was she born and raised here, but her father, Feliciano "Sonny" Belmonte, was its ninth mayor.
Despite an early exposure to politics, Belmonte's interests initially led her elsewhere – including to a career as an archaeologist. But in the end, the call to public service proved too strong.
"If you can be in a position where you can be a source of inspiration to others and become the root of positive change for millions of people, then it is worth it," she said.
For Belmonte, positive change means prioritizing action on the environment to create a liveable, green and sustainable city.
Under Belmonte's leadership, Quezon City has focused on reducing plastic pollution and extending the life of plastic products already in circulation.
"Plastic pollution is a major problem in the Philippines, as in many parts of the world, because of the throwaway culture," Belmonte said. "Plastics clog our drainage systems and end up in the oceans. We know that plastic waste becomes microplastics that can be consumed in the food we eat, the air we breathe and even in the water we drink, which affects our health."
Globally, humanity's addiction to short-lived plastic products has created an environmental catastrophe. Around 19 to 23 million tonnes of plastic annually leaks into aquatic ecosystems, polluting lakes, rivers and seas. To stem that flow, experts say the world must fundamentally alter its relationship with plastic by using less of the material, eliminating single-use products, reusing what plastics are produced and finding environmentally friendly alternatives.
Under Belmonte, Quezon City has banned single-use plastic bags, cutlery, straws and containers in hotels, restaurants and fast-food chains for dine-in customers, as well as single-use packaging material.
Since 2021, residents have been able to trade in their recyclables and single-use plastic products for environmental points that can be used to buy food and pay electricity bills under the "Trash to Cashback" scheme. City authorities have even started a "Vote to Tote" programme to turn tarpaulins used in election campaigning into bags.
Still, millions of single-use plastic sachets are thrown away every day in the Philippines, which is a major source of ocean plastics. Though sachets allow households more affordable access to essentials for cooking, hygiene and sanitation, they cannot be recycled effectively, causing serious environmental harm, experts say.
"Sachet culture really gets to me. It really is something that makes me angry because it is there because we are a poor country," Belmonte said. "Major manufacturers need to do their part and change the way they package products to make them more environmentally friendly."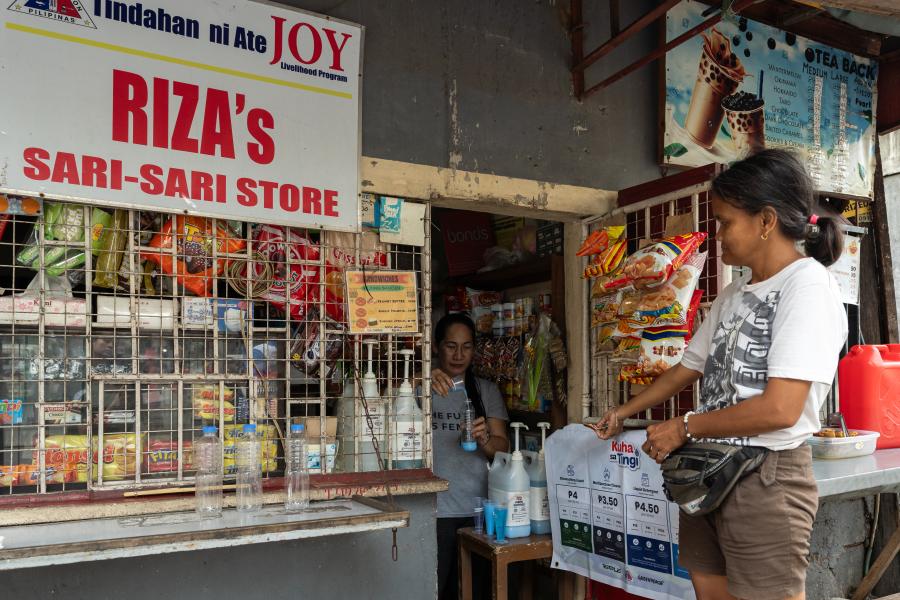 To combat plastic pollution, Belmonte launched in 2023 an initiative to help put refill stations for essentials, such as washing-up liquid and liquid detergent, in convenience stores across the city. With products that are often less expensive than their packaged counterparts, the stations have been received positively and will be piloted in over 6,000 stores next year, Belmonte said.
Last year, a historic UN resolution was passed to develop a legally binding international instrument to end plastic pollution. Belmonte has been vocal about the need for a "truly ambitious" global instrument.
"Mayors want to be part of the negotiating table because we have very practical experience to bring," she said. "The real work is at the level of cities. We already know that when change happens at the level of cities, it happens much more rapidly."
Earning trust
Under Belmonte, Quezon City has also developed an ambitious plan to reduce its carbon emissions by 30 per cent in 2030 and reach net-zero by 2050. It has declared a state of climate emergency to unlock spending, amounting to 11–13 per cent of the city's annual budget, on programmes that mitigate the impacts of the climate crisis.
There are plans to double the number of parks in the city, introduce more electric buses and almost quadruple the network of bike lanes by 2030 to fight pollution. Other green initiatives include promoting urban farming and deploying equipment that allows community farms to transform organic waste into methane gas that can be used for cooking.
Although Belmonte has worked hard to forge her own path, she considers one piece of advice from her father to be priceless: "Always spend time with the people. Especially go to the poor communities, because when you go to the communities and you see how difficult life is for people in the grassroots, you'll never think of abusing power."
It is advice that has shaped her political approach, helped her to build public trust and contributed to her popularity among voters. She was re-elected mayor in 2022 and regularly scores the highest approval ratings among metro Manila's mayors.
"People will buy into your vision if you value what they have to say. That is the best way to get all of our environmental issues across," Belmonte said.
About the UNEP Champions of the Earth
The United Nations Environment Programme's (UNEP) Champions of the Earth honours individuals and organizations whose actions have a transformative impact on the environment. The annual Champions of the Earth award is the UN's highest environmental honour. #EarthChamps
About the #BeatPollution campaign
To fight the pervasive impact of pollution on society, UNEP launched #BeatPollution, a strategy for rapid, large-scale and coordinated action against air, land and water pollution. The strategy highlights the impact of pollution on climate change, nature and biodiversity loss, and human health. Through science-based messaging, the campaign showcases how transitioning to a pollution-free planet is vital for future generations.
UN entities involved in this initiative
UNEP
United Nations Environment Programme