UN Philippines Chief calls for institutions that uphold the rule of law at Philippines first Human Rights Summit
"We need governments that welcome peaceful advocacy and dissent," says UN Resident Coordinator Gustavo Gonzalez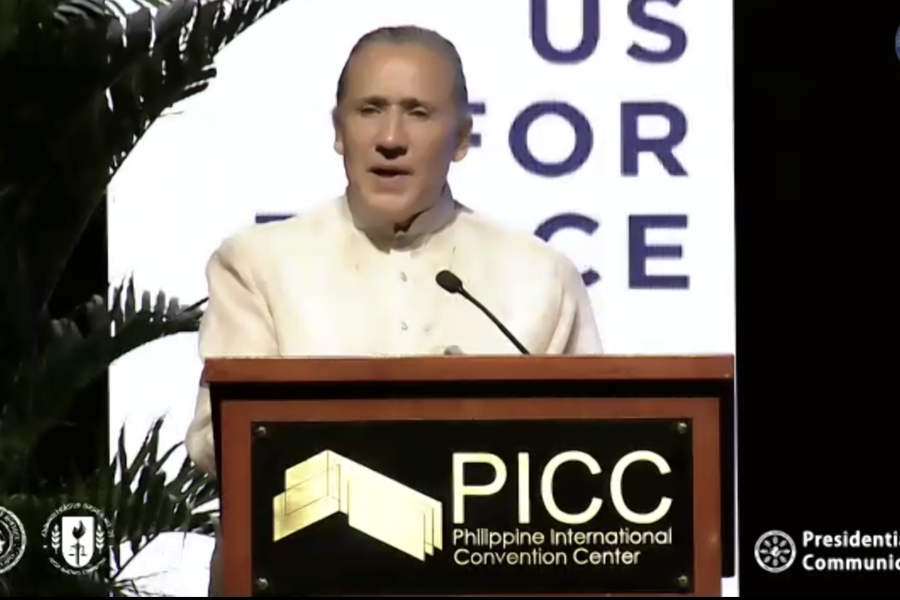 The UN Philippines Resident Coordinator's Address at the Opening of the 2020 Human Rights Summit Philippines, organized by the Department of Justice, on 7 December 2020 (as prepared)
Magandang umaga sa inyong lahat! (Good morning to everyone!)
Ladies and gentlemen, your excellency President Duterte, Secretary Menardo Guevara, distinguished Government Officials, members of the diplomatic community, partners from the Commission on Human Rights of the Philippines and civil society, human rights defenders in all parts of the Philippines and beyond,
It is my great pleasure to address you, today, at the opening of the 2020 Human Rights Summit. Let me start by congratulating the Department of Justice for organizing this important and very timely event.
As you know, the United Nations Charter and the Universal Declaration of Human Rights committed States to create a new social contract for freedom from want and from fear.
In this context, countries agreed to work to achieve the fundamental rights of every human being, with full respect for human equality, dignity and rights.  
The Philippines was there, as one of the founders of the United Nations and one of the first architects of the international rights system.
The Universal Declaration of Human Rights inspired, in turn, the fundamental rights embedded in the 1987 Philippines Constitution
These rights are as relevant today as they were 72 years ago.
The rights framework underpins Agenda 2030 and the Sustainable Development Goals' pledge to "leave no one behind".  And they are reflected in Ambisyon Natin 2040 and the Philippines Development Plan. This has a real and lasting impact on the lives of communities and individuals.
Distinguished participants,
This year's challenges, the coronavirus pandemic and the devastating typhoons, the real and present danger of climate change, show that progress in development can lose ground if it is not underpinned by human rights principles that guarantee basic rights for all.
We need to address  inequalities and discrimination. We need to recognize that universal social protection, universal health coverage and other fundamental services for everyone are critical, and we need to build more equal, inclusive, sustainable and greener societies.
We need institutions that uphold the rule of law and ensure accountability for abuses, and we need governments that welcome peaceful advocacy and dissent. This is the meaning of the global theme for this year's human rights day: "Recover Better: Stand up for Human Rights".
The United Nations has long recognized this interdependence amongst its three pillars– peace and security, development and human rights.
Our humanitarian and development programmes integrate human rights as a cross-cutting element. This makes our impact more sustainable, and guides us to focus on reaching those furthest behind first. It means that we work without discrimination and that we respond to development challenges through genuine and wide-reaching consultation with those who are directly impacted. Its why we see civil society as an indispensable partner and seek to defend and promote the civic space.
Next year, we will embark on something new –  a UN Joint Programme on Human Rights in the Philippines.
This programme seeks to strengthen accountability mechanisms, promote more rights-based laws policy approaches, empower rights holders and bring the State and civil society closer together.
We will work with the Government of the Philippines, the Human Rights Commission, and civil society organizations, and we will draw on international experience and best practices to address human rights challenges.
It is fitting, therefore, that the theme of this Summit is "Peace is the work of Justice". Equality, justice and freedom prevent violence and sustain peace. They do so by recognizing victims, restoring rights and holding violators accountable.  Respect for human rights and impartial rule of law to resolve disputes are at the core of development and peace.
While we are aware that there are many challenges, I am strong in my conviction that we will be able to rise to meet them together.
When the Philippines was hit last month by two devastating typhoons within a short time, I witnessed the massive response by government planners, community mobilizers, humanitarian workers and many others. We must address human rights with the same determination, partnership and resilience.
Ladies and gentlemen,
Let me conclude with an anecdote from the time when the United Nations official seal was being negotiated.
They say that when he saw the seal, a map of the world, the distinguished Filipino delegate General Carlos Romulo looked it over and demanded, "Where is the Philippines?". US Senator Warren Austin explained that the Philippines was too small to include. "If we put in the Philippines it would be no more than a dot". If you look at the UN seal today, you will find a tiny dot, depicting the Philippines, in the area between the Pacific Ocean and the South China Sea. General Romulo insisted on that dot.
In this spirit, each of us can all stand up for rights by taking action.  It may have been only a dot to Senator Austin, but to those of us here, it is where human rights, development, and peace and security become real and have meaning.
To the Government of the Philippines – I want to thank you for your engagement and commitment that I have seen during my six months in this country. The United Nations pledges its full support and cooperation through our humanitarian, development and human rights programmes. 
To the Commission on Human Rights, you are rightly recognises internationally as an A status national institution and as a bulwark for human rights protection in the Philippines.
To civil society actors – you are critical actors in all our areas of work. You are essential implementers at the community level and you are barometers that must let us know where the problems lie. I pay tribute to the role you play in promoting and protecting rights of those at risk of being left most behind, and I pledge the UN's support to amplifying your voices as agents of change
To development partners – we look forward to your continued support and cooperation and invite you to join our Philippines partners in this endeavour.
We all need to stand up for our rights, and those of others. Each of us have a role to play and each of us can stand up by taking action in our daily lives. Once again, I congratulate the Department of Justice and all the partners present, and look forward to our discussions.
Maraming salamat po. (Thank you.)
UN entities involved in this initiative
RCO
United Nations Resident Coordinator Office