Story
UN Philippines chief calls for science-based prevention and treatment to break cycle of drug abuse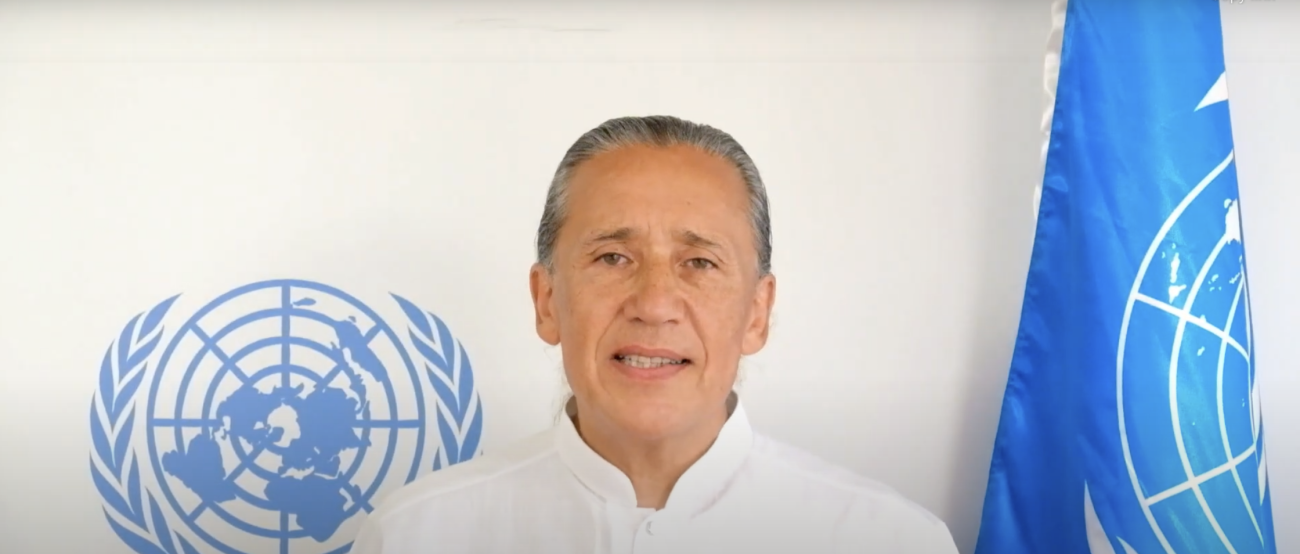 Mr. Gustavo Gonzalez says, "Addressing drug abuse and illegal trafficking requires understanding the 'big picture' of the problem"
United Nations (UN) Philippines Resident Coordinator Gustavo Gonzalez gave opening remarks at the National Substance Use Science Policy and Information Forum on Substance Use in the Philippines: Governance, Research and Practice on 15 June 2021.
The text of his message follows:
Senator Risa Hontiveros-Baraquel, Congresswoman "Helen" Tan, Secretary Fortunato de la Peña, Secretary Francisco Duque III, members of the Academia, Rhodora Azanza, Carmencita Padilla, Dr. Armando Crisostomo, members of the National Academy of Science and Technology and the Asian Center for Drug Policy, Dear guests, Magandang Umaga sa inyong lahat!  Buenos dias a todos. Good morning dear partners and friends!
Today we have our first ever "National Substance Use Science Policy and Information Forum", which is happening just days before the "International Day Against Drug Abuse and Illicit Trafficking" 
The theme of the International Days is  "Share Facts on Drugs. Save Lives", which is very much aligned with the spirit of today's Forum, where we highlight the importance of knowledge and research in lives saving.
As we know, "drug abuse and illicit drug trafficking" continue to negatively impact on development and stability in countries across the world, the Philippines included.
The global manufacture of cocaine reached again an "all-time high" of more than 1,700 tons in 2018, and the quantities of seized methamphetamine reached a new "record high" in 2018, at 228 ton-equivalents.
Still worst, traffickers have adapted to new controls and changed their routes and and develop new trading patterns. We are in front of very resilient networks.
More than a quarter of a billion people around the globe "use drugs" and over 35 million people "suffer" from drug use disorders.
I am sure you're following the statistics for the Philippines, where the prevalence of drug use is 2.05%, the equivalent of 1.7 million Filipinos.  As across the globe, the Philippine drug problem is deeply intertwined with wide a range of factors: poverty, inequalities, poor access to health care, and systemic problems in governance.
The burden of drug production and trafficking as well as of organized crime is -ultimately- borne by individuals and communities with lower socio-economic resources. A perverse and vicious circle.  
For that reason, taking into account the social, economic and  cultural contexts and addressing the underlying health, economic and social causes of drug use is critical to reduce harm to the individual and society rather than stigmatizing drugs as "a social evil".
But this approach -which is recognizing the complexities of the problem instead of looking for scape goats- cannot succeed if it's not supported by further scientific and evidence-based work. Without those evidence, we cannot formulate the required polices on drug use.
The drug, crime and corruption conventions of the United Nations form a solid foundation for solutions to these global problems. But these need to be complemented with localized versions which are based on scientific work and nuanced in the local culture and practice.
As you know, the United Nations Country Team in Philippines has just updated its cooperation framework with the country. This revision is working on the assumption that the COVID19 pandemic can also be a "game changer". We can harness the recovery phase from the pandemic to accelerate some pending or delayed transformations. In this context, we have placed the human rights agenda at the heart of our mission in the country.
And as you know, we have just finalized, in close cooperation with the Government, the Commission on Human Rights and civil society the first ever United Nations Joint Programme on Human Rights.
This new Joint Programme has six components, and one of them is the Human Rights-Based Approach to Drugs. This technical cooperation investment represents a great opportunity to engage with the local academia to generate scientific evidence that can be used to make decisions, craft policies and develop programmes from a localized Filipino perspective.
Breaking the cycle of drugs, marginalization and poor socioeconomic prospects requires programmes that link "science-based drug use prevention and treatment" as well as "policies that prevent individuals and communities in participating in drug trafficking and production", with "efforts to improve public health, increase economic development and public security, and reduce socio-economic inequalities".
Addressing drug abuse and illegal trafficking requires understanding the "big picture" of the problem…  where health, social, economic and security challenges play their role… Someone said that "the big picture doesn't just come from distance; it also comes from time". Time where we reach consensus on solutions and we decide to work together.
Today's event is helping us in getting such "big picture" for collaboration.
Mabuhay kayo!
UN entities involved in this initiative
UNODC
United Nations Office on Drugs and Crime