Story
UN Philippines chief underscores food systems transformation as key to achieving the SDGs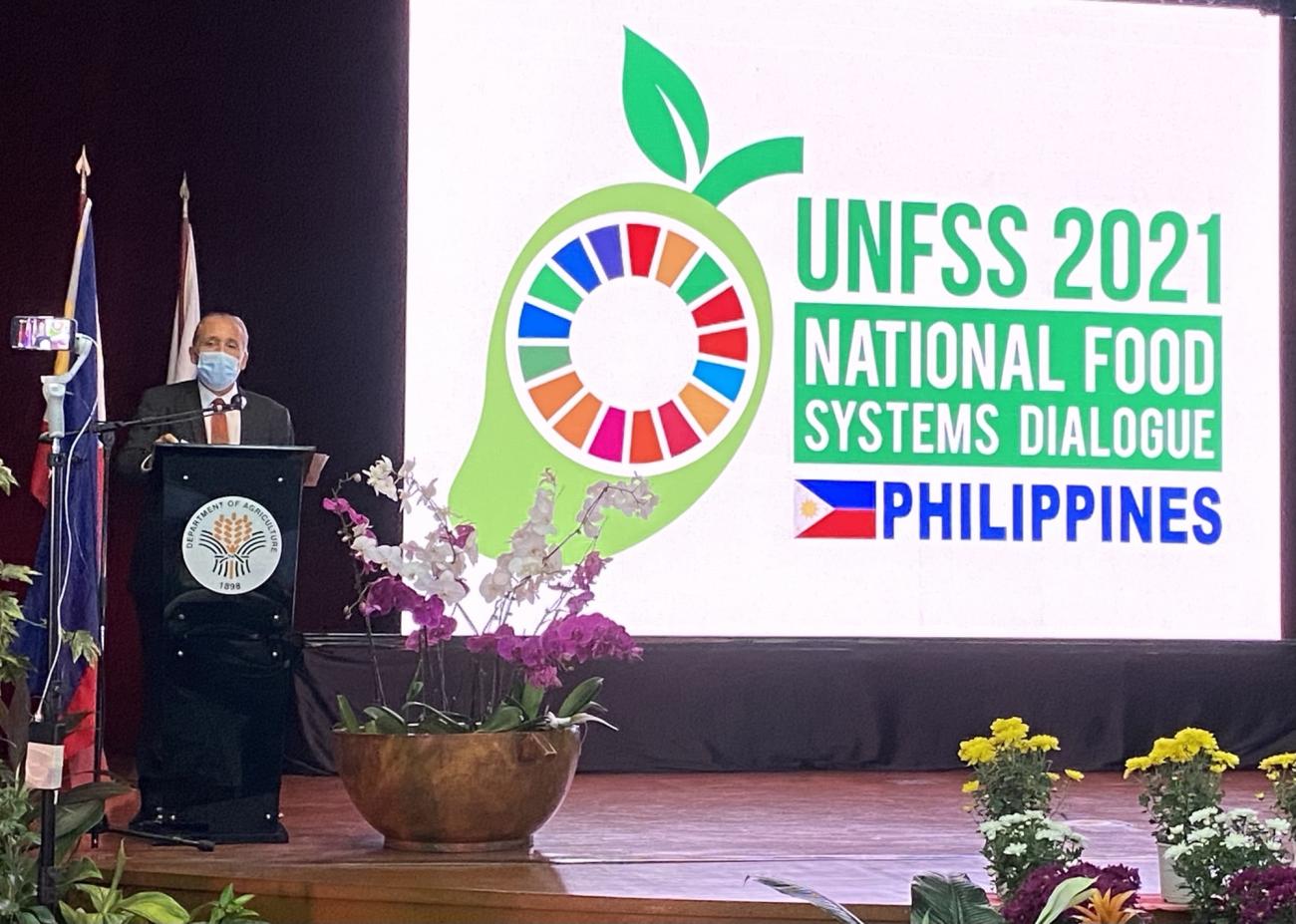 Mr. Gustavo Gonzalez makes this call at the opening of the Philippine National Food Systems Dialogue
MANILA, 13 July 2021--The two-day Philippine National Food Systems Dialogue opened today, with United Nations (UN) Philippines Resident Coordinator Gustavo Gonzalez emphasizing that "transforming food systems is necessary not only to attain the SDGs by 2030 but also the Philippines' Ambisyon 2040."
Gonzalez said, "The Summit is an opportunity to rethink the critical importance of food systems in the context of COVID-19 recovery, and to underscore the call for shared responsibility, collective actions and greater solidarity to ensure no one is left behind."
In September 2021, UN Secretary-General António Guterres will convene the global Food Systems Summit as part of the Decade of Action to achieve the Sustainable Development Goals (SDGs) by 2030. The Summit intends to launch new actions and game changing solutions to transform food systems towards healthier, sustainable, more affordable, more resilient, less wasted and better-distributed food.
In the Philippines, the Department of Agriculture (DA) is spearheading the National Food Systems Dialogue. Guided by the UNFSS five (5) Action Tracks, the National Food Systems Dialogue will serve as the convergence activity that will guide the crafting and development of the proposals, programs, partnerships and activities for the various key players in agriculture, policymaking, business, food aid, and indigenous communities. This event will apply the "whole-of-nation" approach, wherein a diversity of stakeholders, will be involved, including voices that are seldom heard, and provide an important opportunity for participants to debate, collaborate, and take action towards a better future.
The message (as prepared) of Mr. Gonzalez is found below: 
I would like to congratulate the Philippines for organizing this National Food Systems Dialogue in preparation for the global Food Systems Summit that UN Secretary-General António Guterres is convening in September this year.
The Food Systems Summit has taken on a new significance in light of the global pandemic as a moment to reset and reconcile with nature and secure the wellbeing of people and our planet. The Summit is an opportunity to rethink the critical importance of food systems in the context of COVID-19 recovery, requires game changing initiatives and policies, and underscores the call for shared responsibility, collective actions and greater solidarity to ensure no one is left behind.
Challenges
With this in mind, I would like to briefly paint a picture and recall where we were even before COVID-19. Based on various UN studies:
144 million children were stunted; 820 million people were chronically food insecure, of which 135 million were in crisis levels or worse; yet, at the same time, 1/3 of all food produced for human consumption globally was being lost or wasted annually – a paradox that is truly unacceptable.
Food systems contributed to 1/3 of all greenhouse gas emissions
The increasing world population will require global food production to increase 1.1% increase annually
COVID-19  significantly altered food accessibility worldwide, with daily food-related routines disrupted the most; and
In general, the pandemic has adversely affected the progress towards achieving the SDGs by 2030.
All these data point back to reasons for holding the Food Systems Summit:
We need to collectively change the way we think about food systems and view them holistically at two levels: first, food systems activities interact closely with one another; second, food systems affect the welfare of the current and future generations, and as importantly, the welfare of our planet.
Hard choices will often need to be made to balance the potential benefits and trade-offs at these two levels; hence attaining well-functioning and inclusive food systems will demand comprehensive, integrated responses and actions that require us to change our current thinking and behavior.
From these country-level dialogues, we hope to see the contributions that national priorities and actions will have in the emerging areas of convergence for the global summit.
The global conditions I referred to earlier apply to the Philippines. Allow me to highlight a few examples how food systems impacts the future of the Philippines:
Stunting – As we just heard from Dr Dayanghirang, 1/3 of Filipino children are stunted, rates that rank in the top 10 worst globally - in part due to malnutrition caused by inadequate access to healthy food. Stunting will impact these children's ability to get or complete their education, and to fully develop cognitively and physically, putting at risk the country's expected demographic dividend in the coming years. Implementation of the National Food Policy, developed by the Inter-Agency Task for on Zero Hunger will play a key part in addressing stunting.
Food insecurity – In 2020, moderate or severe prevalence of food insecurity in the Philippines stood at 62.1%, more than double the global rate of 25.5%. The situation is significantly worse for BARMM. Back in 2015, moderate or severe prevalence of food insecurity for the country was at 53.8%, while it was almost 80% for BARMM. A 2018 survey showed that nationally, 1/3 of households were unable to afford a "nutritious diet," but non-affordability was much higher in BARMM at 58%. The BARMM's Food Security and Nutrition Roadmap is a key tool for addressing this and other impediments to the Bangsamoro's sustainable development.
With the outbreak of the pandemic, like many other countries, food security of Philippines was affected significantly and Filipinos encountered significant challenges. In April 2021, 40% of households in Metro Manila surveyed by the UN experienced hunger or food insecurity. Though varying in degree, other areas in the country also face similar challenge following the loss of employment and livelihoods as a result of restriction measures taken to control the spread of the virus.
Solutions
To address the myriad of issues involving food systems, the five Action Tracks provide an integrated framework for prioritizing and selecting necessary actions. In the next two days, we hope to see the Philippines come to an even stronger agreement of what those actions will be.
I would also like note that the Philippines already has a strong foundation of government initiatives and efforts which contribute to these Action Tracks, such as:
The Department of Agriculture's adopting "New Thinking for Agriculture" to change mindsets and introduce new durable approaches such as farm consolidation to promote economies of scale and increasing youth participation in agriculture to facilitate adoption of new and modern technologies.
The recent National Food Systems Summit initiatives to enhance climate smart agriculture, promote digital agriculture, invest in provincial agriculture and fisheries, and update commodity industry road maps.
The Inter-Agency Task Force on Zero Hunger's Enhanced Partnership Against Hunger and Poverty (EPAHP) initiative to strengthen community procurement by providing end-to-end support, from empowering and consolidating backyard agricultural production to providing market opportunities for nutritious food by linking them to government institutions such as day care centers, schools, and hospitals.
Legislative efforts through bills already filed in each chamber of Congress to address hunger and ensure adequate food.
The UN in the Philippines has already presented our evidence-driven recommendations for each of the five Action Tracks to the Department of Agriculture for consideration. Please allow me to highlight four common themes of these recommendations:
One - Actions need to be holistic, multi-dimensional, transformative, and ambitious; not just to recover from COVID -19 but to regain ground lost on SDGs
For example, diversification of crops, fisheries, other forms of agriculture, and rural livelihoods is needed to produce positive outcomes in health (by ensuring nutrition-sensitive produce), economic production (by building sustainable food chains), education (by improving the quality and quantity of school meals), and employment (by expanding livelihood opportunities).
In addition, data driven and evidence-based decision-making coupled with system-wide co-creation as well as innovative solutions could create a food governance system where enabling states, social markets, and collective actions may thrive
Two - Investments required are significant, not just from the government but need to leverage and incentivize greater private sector participation, as well as contributions from other stakeholders such as civil society, academe, development partners, and many others.
For example, public investments in improved agricultural infrastructure and extension and adoption of cost-efficient soil conservation and management technologies must go hand in hand with private investments in future-proof and resilient food hubs, and improved processing technologies that prolong shelf lives of natural produce.
Consumers contribute to improving food systems by changing their food consumption behaviours (such as choosing natural produce instead of highly processed food) while civil society organizations can actively support better food security and nutrition.
Three - Efforts must deliberately promote human rights and equity, empower women and youth, increase access and active participation by, and affordability for, the most vulnerable and those most affected by national food systems
For example, small holder farmers and fisherfolk must be empowered to engage in e-commerce to increase production and lower costs of distribution, while social protection programs for vulnerable groups should be leveraged to boost demand for strengthened nutrition sensitive food supply chains through access to safe and nutritious agricultural produce and price monitoring, plus producing locally appropriate complementary foods for young children and mothers.
In addition, in our highly shock-prone country, promote national and local action to protect food supplies from the impacts of pandemics now and from any other shocks in the future.  This means  ensuring  that all people within a food system, including indigenous populations, are empowered to prepare for, withstand, and recover from shocks  – both natural and man-made, allowing us to leave no one behind by delivering food security, nutrition, and equitable livelihoods for all.
Four - Actions should contribute to solving the triple planetary crisis of climate change, biodiversity loss, and pollution
For example, new efforts must scale-up sustainable upland development that restores soil health, adopt eco-efficient water practices and production techniques that control discharge of pollutants, ensure access to safe foods, provide targeted communications on social behavioral change for responsible consumption, shore up food safety strategies, and promote local food production to minimize food waste and loss.
In closing, I would like to reiterate the importance of the National Food Systems Dialogue as it will lead to a blueprint for the Philippines' pathway to food systems sustainability and will serve as the country's contribution to the areas of convergence that are already emerging for the Global Food Systems Summit.
I would like to reassure you of the continued support of the whole UN in the Philippines for the country's food systems and other development priorities as we actively implement the Socioeconomic and Peacebuilding Framework for COVID-19 Recovery for the Philippines.
Finally, I would like to reaffirm today's dialogue as a call to joint action. Transforming food systems is necessary not only to attain the SDGs by 2030 but also the Philippines' Ambisyon 2040. As Agriculture Secretary Dar mentioned in his invitation, this requires a "whole of nation" approach. I would add that the country's agreed roadmap and long-term commitment that will emerge from this dialogue extends beyond administrative boundaries, societal factions, and political cycles, and can only be sustained through joint and collective effort of all stakeholders involved.
Thank you and have a good day.
UN entities involved in this initiative
FAO
Food and Agriculture Organization of the United Nations
RCO
United Nations Resident Coordinator Office
Other entities involved in this initiative