Story
UN Philippines chief leads solidarity march kicking off 18 Day Campaign to End Violence Against Women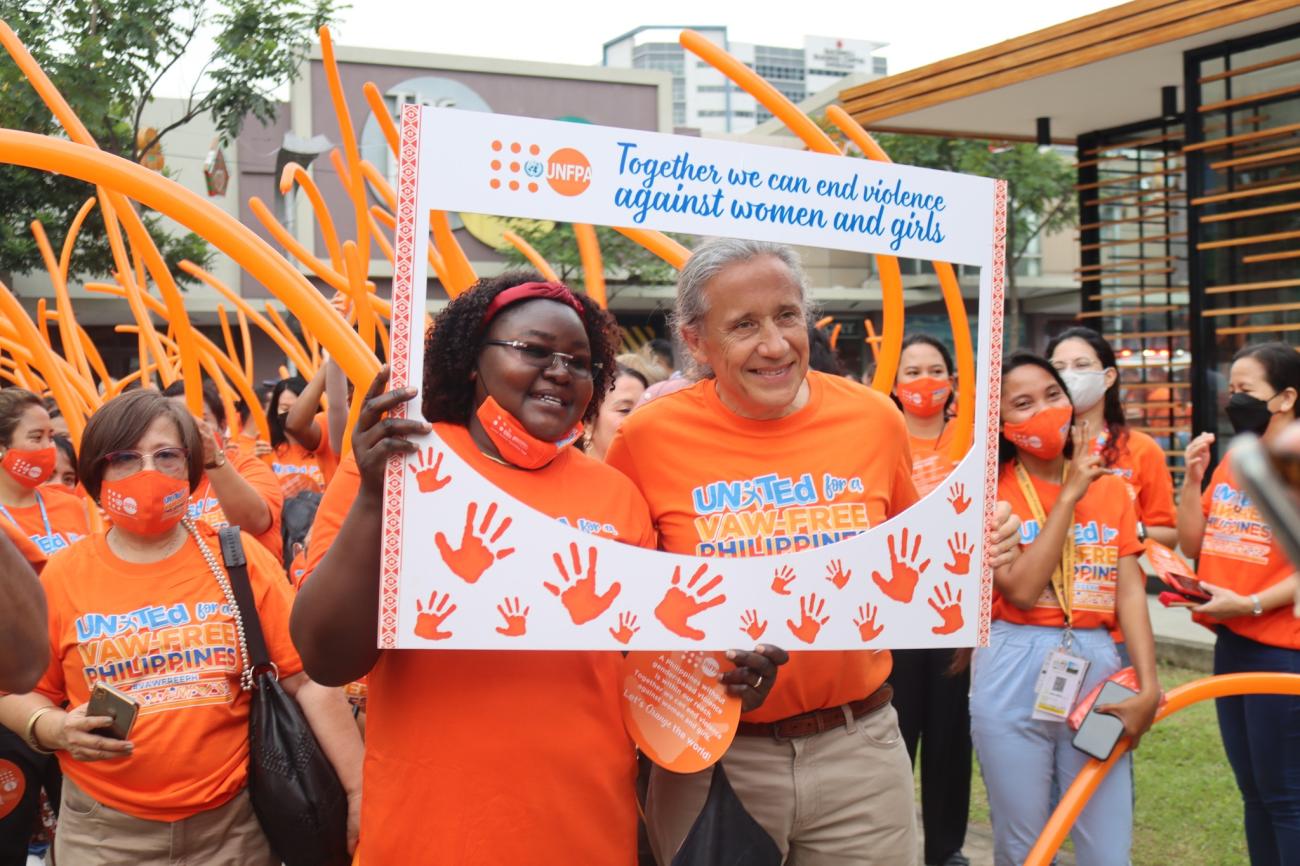 Mr. Gustavo Gonzalez and UN Philippines personnel march for end to violence against women
Manila, 25 November 2022--United Nations Resident Coordinator in the Philippines Gustavo Gonzalez addressed participants to the solidarity march to kickstart the 18 Days of Activism Campaign to End Violence Against Women. His message (as prepared) follows: 
Each year, from 25 November to 12 December, the 18 Days Campaign to End Violence Against Women in the Philippines calls for action against one of the world's most persistent violations of human rights – violence against women.
Violence against women continues to occur at an alarming scale in every country in the world. Too often it is accepted as normal behaviour and the global culture of discrimination against women allows violence to occur with impunity.
In the Philippines, 17% of women aged 15 to 49 years have experienced physical violence. Also, 5% of women have experienced sexual violence.
Violence against women can cause long-term physical and mental health problems. Violence and abuse affect not just the women involved but also their children, families, and communities. These effects include harm to an individual's health, possibly long-term harm to children, and harm to communities such as lost work and homelessness.
The perpetration of VAW is usually intergenerational and the cycle of violence usually continues.
To end violence against women, we need to challenge the attitudes that perpetuate, rationalise and normalise that violence, and deny women's right to safety. Men are overwhelmingly the perpetrators of gender-based violence. To see violence truly eliminated, the attitudes of men need to change. Shifting these behaviours is hard and slow, but gender equality means all of us, and working with all genders is the only way to see true change.
The 18 Days Campaign provides an opportunity to reflect on how the Philippines is being accountable and challenging the structures that allow gender-based violence to continue. Gender based violence is an issue that impacts all of us at multiple levels, and the governments have a responsibility to respond, protect, and prevent such violence.
Ending Violence Against Women and Girls is not any one person/groups responsibility. It's everyone's responsibility!
Change is needed across all levels of society. Individuals, organisations, government and society at large need to understand and address gender inequality for long term prevention of
violence against women and girls. Social norms need to change by building knowledge and skills, practices and structures. These changes will help overcome entrenched gender inequality in our community and help prevent all forms of gender based violence in the long and short term.
We at UN Philippines with my colleagues who walked with me today in this solidarity march are committed to supporting our government partners like the Philippine Commission on Women, and the Department of Social Welfare and Development to ensure that we sustain our continued collaboration and partnerships to ensure that resources and all GBV services and response are available to survivors in peacetime and especially during emergencies.
Violence against women is not inevitable; it is preventable. We need to work together and be united in our commitment to ending violence against women and girls in the Philippines. Together, our message will be amplified, and our voices heard.
I would like to thank the distinguished guests, partners, development practitioners, academicians and young friends present here today for your active participation and thereby showing your commitment towards ending VAW in the Philippines.
UN entities involved in this initiative
UNFPA
United Nations Population Fund