Story
The UN Special Envoy for Road Safety calls for law enforcement and promotion of gestures that save lives in the Philippines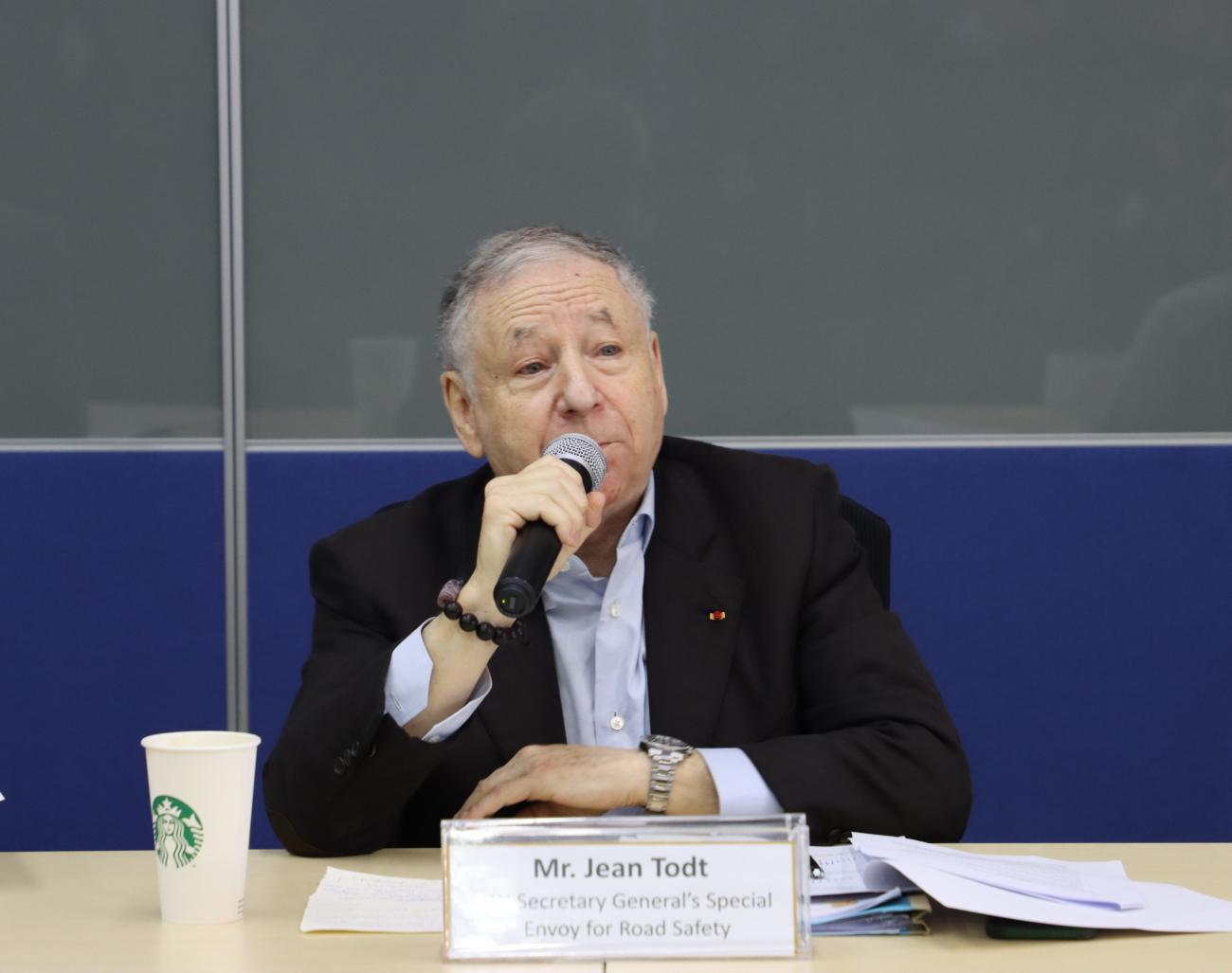 Mr. Jean Todt concluded his four-day Philippines stopover in the mission today
MANILA, 13 APRIL 2023--In mission in South-East Asia, the UN Secretary General's Special Envoy for Road Safety, Jean Todt, made a four-day stopover in the Philippines, from the 11 to 14 April to advocate for the effective implementation of the Global Plan for the Decade of Action for Road Safety 2021-2030 with the aim of halving the number of victims on the road by 2030.    
South-East Asia is one of the regions of the world most affected by road crashes.  Fifty-eight percent of the world's 1.3 million road deaths occur in the Asia-Pacific region.  According to the World Health Organization, South-East Asia has the second highest road traffic fatality rate of 20.7 per 100,000 population after Africa which is 26.6 per 100,000 population. The Philippines ranks 10th out of 21 ASEAN countries on the list while Singapore, Maldives and Japan are top 3.  The road traffic fatalities rate in the Philippines is 12.3 per 100k population. By comparison, the fatality rate is 9.3 per 100,000 population in Europe. More than 32 people die a day in Philippines on the roads and hundreds more are severely injured.
Road fatalities and injuries are a development challenge
The UN's Sustainable Development Goals (SDGs) contain two global targets on road safety. SDG target 3.6 calls to halve the number of global deaths and injuries from road traffic crashes. SDG target 11.2, on a 2030 timeframe, calls for improving road safety in the provision of access to transport systems and expanding public transport to all.
Reporting about his meeting with the families of road traffic victims this Thursday morning, the Special Envoy expressed his concern about the impact of the crashes on the community: "Families of those injured and lost through crashes, have to carry more than a heavy emotional and physical burden, they also have to face an economic one".  According to the World Bank, the cost of road crashes represents 4.1% of GDP in the Philippines. It is also the leading cause of death for ages 5-29, injuring and killing not only the economic force but also the hope of the nation.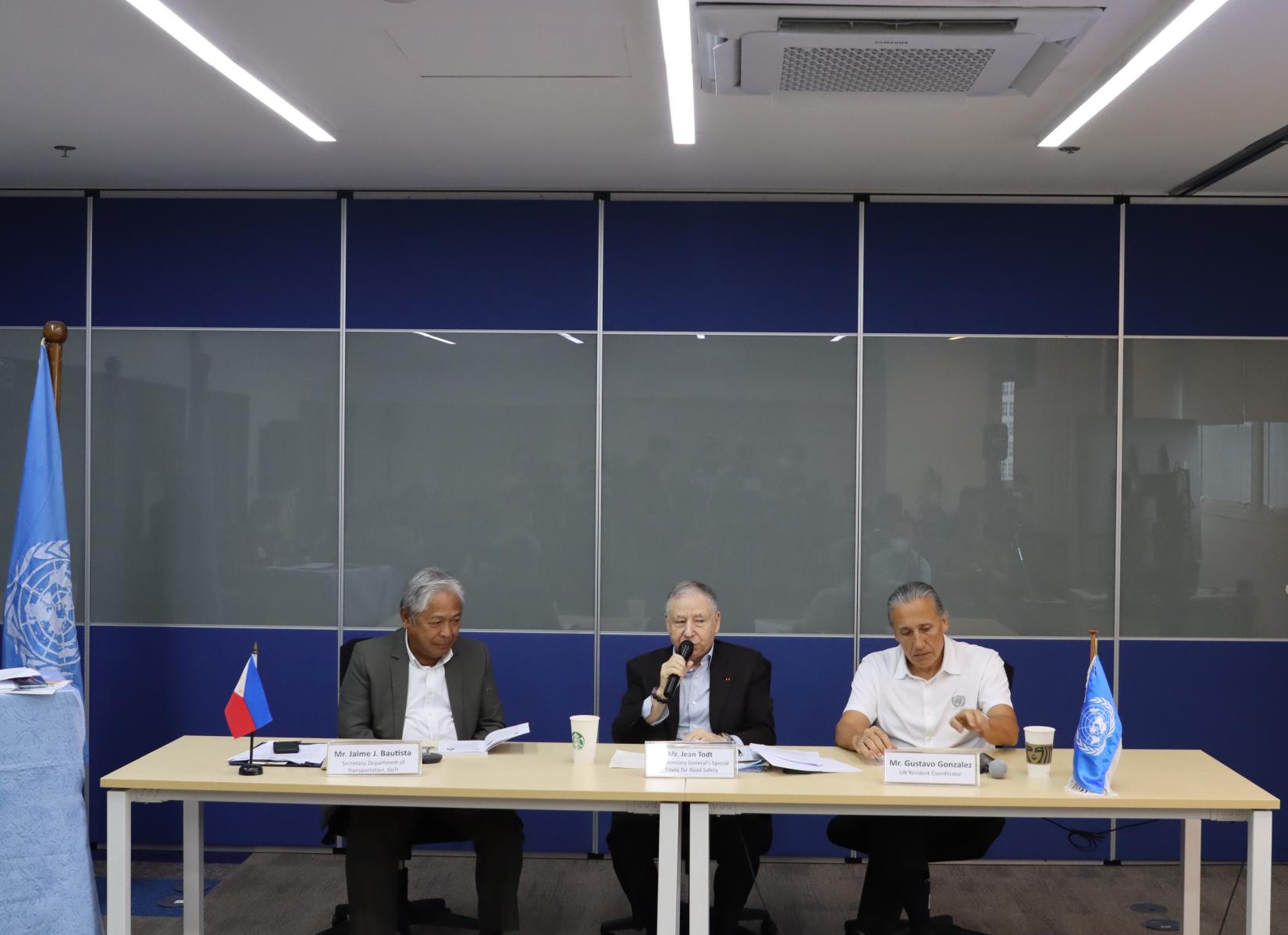 "Road fatalities and injuries are a development challenge", said UN Resident Coordinator in the Philippines, Gustavo González, emphasizing that investing in road safety means investing in health, cleaner planet, social inclusion, human rights, access to education, sustainable transport, resilient cities, gender equity and more.  It is therefore crucial to achieve road safety goals."
Law enforcement and gestures that save lives
"Southeast Asia faces a tragedy on the roads. However, solutions exist, combining policy enforcement and education. Simple gestures can also save lives, such as wearing a seatbelt or a helmet, not driving under influence, not texting while driving, or reducing speed", highlights the Special Envoy.  Asian countries have experienced rapid motorisation in recent years, especially concerning motorised 2-3 wheelers.  Particular attention should be paid to this mode of transport which represent 40% of crash fatalities in South Asia. According to the Health Department of the Philippines, 65% of road crash victims are motorcycle riders. It is therefore urgent to implement proven solutions that can save lives such as wearing a certified quality helmet which could reduce the risk of fatality by 42% and injuries by 69%.  Safe and affordable Helmet can be a "game change" in preventing motorcycle deaths and injuries, highlights the Special Envoy.
Wearing seat belts and reducing speed are also key challenges in the country. Only 52% of drivers wear seat belts in the Philippines. Compared to 2013 (79.7%), the rate has dramatically dropped by 28%.
Speed management was recently addressed in a project in the Philippines funded by the UN Road Safety Fund. The project realized significant impact with more than 170 speed enforcers trained in best-practice speed enforcement, high-level officials supported in developing speed enforcement plans, and more than 75,000 people engaged through social media on the importance of appropriate speeds.
Other solutions exist which are about building an ecosystem of safe vehicles, safe roads, strong laws and effective post-crash care. The Special Envoy also recommends the country to adhere to the international instruments and conventions on road safety to guide national policies. Putting road safety as a priority on the political agenda could also have a transformative impact on saving lives on the road.
In that perspective, the country has taken new initiatives to strengthen safety on the roads. For example, the Philippines issued the National Road Safety Action Plan 2023-2028 with the target to decrease by 20%, remind of global goal of 50% reduction by 2030.
Department of Transportation (DOTr) Secretary Jaime Bautista said, "Our approach is anchored on prevention. Our targets are the drivers, passengers, pedestrians, other road users and the vehicles. Pertinent agencies of our Department have existing programs that consequently lead to the promotion of road safety.
Bautista reported that the DOTrOur Department has an innovative program to promote road safety, called Active Transport Program.
Bautista said, "This includes constructing protected cycling lanes and paths; end-of-trip bicycle facilities; safe and accessible pedestrian walkways; improvement of existing bike lanes; and establishment of public transport stops. The transport infrastructures were built in partnership with LGUs."
The Special Envoy encouraged the whole country and its partners, including the civil society, local authorities and the private sector to play a role in implementing this action plan. "More investments in road safety are also crucial," he said.
---------------------
Media Contact:
Secretariat of the UN Secretary-General's Special Envoy for Road Safety:
Priti Gautam priti.gautam@un.org
Stephanie Schumacher stephanie.schumacher@un.org
 -----------------
Notes to Editors:
The United Nations has invested significantly in tackling the problem of road safety globally. Following the "Decade of Action for Road Safety 2011-2020", the UN General Assembly in August 2020 adopted a resolution on "Improving Road Safety", that reconfirmed its commitment to halving the number of global traffic deaths and injuries and to providing access to safe, affordable, accessible, and sustainable transport systems for all by 2030. In July 2022, the road safety community met in New York City for the first ever High-Level Meeting on Improving Global Road Safety at the United Nations General Assembly, unanimously adopting a text titled: "Political declaration of the high-level meeting on improving global road safety".
To galvanize intersectoral actions and raise the visibility of road safety, the UN Secretary-General, Ban Ki-moon, appointed in 2015 Jean Todt as his Special Envoy for Road Safety. He was reconfirmed in this role by the new UN Secretary-General, António Guterres in 2017 and in 2021. In 2018, together with 14 UN organizations, the Special Envoy launched the UN Road Safety Fund (UNRSF).
UN entities involved in this initiative
RCO
United Nations Resident Coordinator Office