Press Release
Forum on Multilateral Responses to Global Challenges: Building Back Together for Peace and Prosperity
20 October 2023
19 OCTOBER, MANILA, PHILIPPINES – The European Union and the United Nations in the Philippines, in partnership with the University of the Philippines College of Law, convened a forum on multilateralism to emphasize the continued importance of global partnerships and cooperation for the achievement of Sustainable Development Goals (SDGs).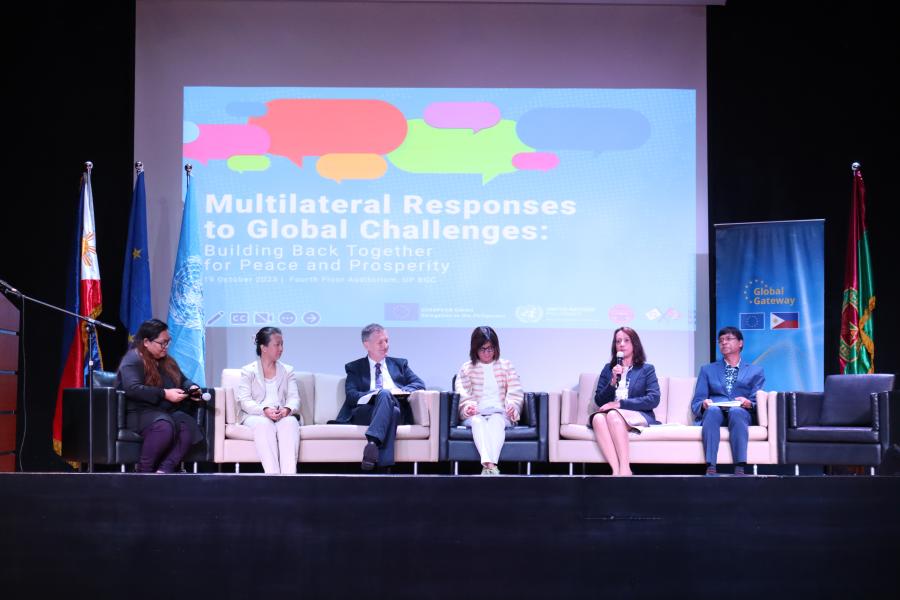 At the halfway mark to the 2030 deadline to achieve the SDGs, the world is grappling with a multitude of challenges – political instability, conflicts, poverty, inequality, climate crisis, and global health issues – with progress towards many global targets having stalled, or even backtracked. Many crises confronted exceed the response capacity of any single institution or actor and required multilateral solutions and joint and decisive action.
The European Union and the United Nations continue to forge strong partnership and cooperation – through aligned engagement on policy, programmatic priorities and advocacy – for the realization of SDGs. Commitment to inclusive multilateral engagement, with space for contributions from all countries and communities, is key for addressing global and local challenges – including in the Philippines, a founding member of the United Nations with a long and rich multilateral tradition.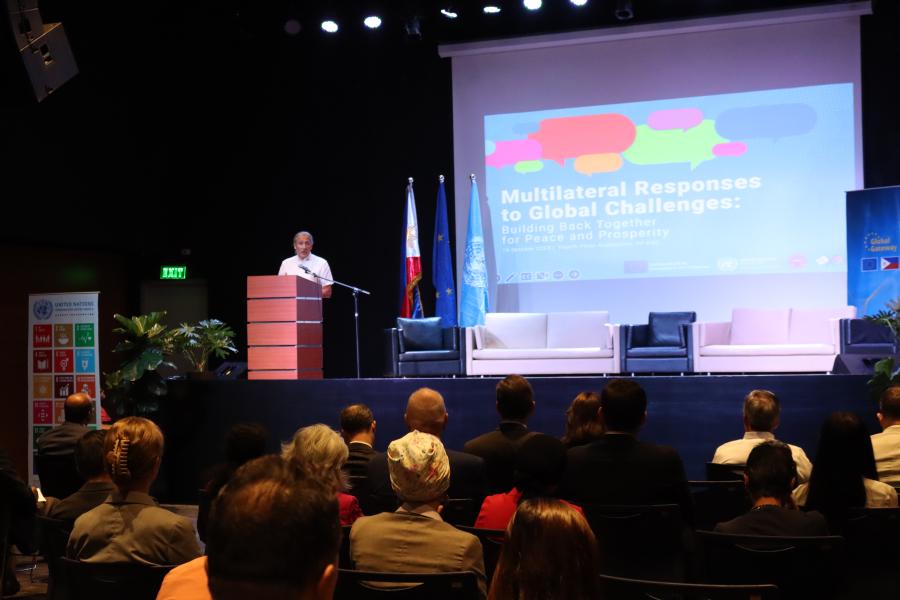 Echoing Our Common Agenda, the Secretary-General's vision for the future of global cooperation, Gustavo González, United Nations Resident Coordinator in the Philippines, underscored the need for a new generation of multilateralism that is more responsive to evolving global challenges. "We have to admit that the multilateral system is at greater strain now than at any other time since the creation of the United Nations," he said, adding that "the effectiveness of our multilateral system will be measured by whether it will lead to a safe, healthy, and inclusive world for the present and future generations."
This vision is shared by key regional actors such as the European Union, which recognize the need to work with partners to achieve common goals: peace, prosperity and security. Luc Véron, European Union Ambassador to the Philippines, highlighted the important multilateral support for the peace process in Mindanao and emphasized that sustainable peace is critical to achieving sustainable development. "More than ever, we need to have a well-functioning, rules-based international order with an effective United Nations at its core," he said.
The Forum on Multilateral Responses to Global Challenges: Building Back Together for Peace and Prosperity is part of a series of events held in October for UN Month to highlight and strengthen the collaborations between the Unite Nations and partners in government, civil society, private sector and the international community. With the theme "SDGs: A Race We Can Win," which is part of the global campaign, these events aim to amplify the drumbeat of opportunity to achieve the SDGs.
UN entities involved in this initiative
RCO
United Nations Resident Coordinator Office