Press Release
HCT JOINT PRESS STATEMENT: Commemorating the 10th Anniversary of Super Typhoon Haiyan
08 November 2023
Today we commemorate the 10th anniversary of the devastating impact of Super Typhoon Haiyan (Yolanda), which struck the Philippines on 8 November 2013, resulting in over 6,300 deaths and the displacement of several thousand families. Over 16 million people were affected in 41 provinces across nine regions.
We remember the lives that were lost and disrupted and extend our gratitude once again to the Philippine government and humanitarian partners for their support and collaboration, which played a crucial role in efforts to assist those affected by the super typhoon. The response efforts also involved the private sector, civil society, and even the support of overseas workers and foreign militaries, truly embodying a whole-of-society approach under the leadership of national authorities.
In the immediate aftermath of the storm, the Humanitarian Country Team (HCT) helped coordinate the assistance provided by international and national partners between November 2013 and August 2014 through these efforts:
about 3.7 million people received food assistance;
2.3 million children were vaccinated to improve their health and nutrition;
110 local government units were provided with improved vaccine cold chain facilities;
1.9 million people were provided with hygiene kits;
over 1.4 million people received cash assistance;
about 1.3 million people were given access to safe water;
about 570,000 households were housed in emergency shelters;
more than 545,000 children received learning materials and benefitted from 285 child-friendly spaces;
350,000 people were provided with latrines;
190,000 children received supplemental feeding;
158,000 households were provided with durable roofing solutions;
more than 152,000 workers were given immediate short-term work to help their families after the onslaught;
103,000 farmers received seeds and tools to revive their source of livelihood;
about 24,000 fishermen were assisted with boat repairs;
over 600 'Barangay Councils for the Protection of Children' (BCPC) with 10,000 members trained on child protection issues; and
about 10,000 officials were given training on disaster safety and protection.
Since then, various partners and organizations have collaborated to expand humanitarian efforts in the Philippines in support of the government-led response, particularly on healthcare, protection, and food security.
The World Health Organization (WHO) has helped effectively address both communicable and non-communicable diseases in affected regions, benefiting approximately 5.8 million people.
On maternal care and reproductive health, the United Nations Population Fund (UNFPA) played a central role in delivering essential services and supplies, as part of a comprehensive plan developed in partnership with the government and other humanitarian partners to provide urgent care and protection to 3.5 million women and girls of childbearing age.
UNHCR, the UN Refugee Agency, co-led the Protection Cluster with the Department of Social Welfare and Development (DSWD) to address the protection concerns of Super Typhoon Haiyan internally displaced population, focusing on vulnerable groups such as children, women, the elderly, and indigenous communities. Core relief items were also provided in affected areas.
UNICEF put the needs of children and youth at the center of its response by providing access to safe water, vaccinating children against diseases, providing learners and out-of-school youth with education materials and safe spaces, delivering psychosocial support, and training service providers, among others.
Action Against Hunger's programs focused on addressing hunger through the provision of emergency food aid, cash grants, and livelihood assistance, while also improving access to safe water and sanitation.
The World Food Programme (WFP) collaborated with the Philippine government and partners to enhance local emergency response capacities, emphasizing the importance of quick, localized responses to ensure food security and nutrition during climate events.
The International Organization for Migration co-led the Camp Coordination and Camp Management (CCCM) Cluster and worked with DSWD to address the most urgent needs of over 5,000 families who lived in displacement sites across 5 areas. Like many others, IOM's response extended beyond initial response with the deployment of the Displacement Tracking Matrix, staff training on CCCM and Disaster Risk Reduction.
UN-Habitat's response empowered families to build 810 resilient permanent housing in various localities in Region 6 and Tacloban City which have withstood various typhoons until today through the People's Process while also assisting Tacloban City, Ormoc City and Guiuan municipality in developing their Recovery and Rehabilitation Plans.
After the immediate response efforts, HCT members continued to provide support. The United Nations Development Programme (UNDP) launched an early recovery program that focused on restoring livelihoods, restoring local institutions and public services for recovery, and reducing risks for future disasters. The program included rapid employment efforts and cash grants for affected businesses. UNDP also provided climate resilient and gender sensitive evacuation centers, and resilient permanent housing for displaced families.
The Food and Agriculture Organization (FAO) has been working towards the adoption of anticipatory action interventions linked with existing social protection systems and programs to help ensure food security and the protection of agricultural livelihoods among vulnerable communities even before disasters strike.
This focus on pre-emptive response was echoed by Plan International Philippines, which highlighted the necessity of preparing communities for predictable hazards, particularly to ensure inclusivity and child-friendly policies. The organization highlighted the importance of mainstreaming gender transformative actions during emergencies.
Oxfam Pilipinas also called for proactive disaster mitigation and preparedness through collaborative solutions and emphasized the impact of the climate crisis on marginalized communities.
Following the devastation wrought by Super Typhoon Haiyan, the HCT has learned that when humanitarian needs outpace available resources, the significance of prevention, anticipatory action, community engagement, and resilience building becomes clear. This forward-looking approach improves responses to current and future challenges and requires stronger collaboration among organizations to implement long-term strategies. It also aims to decrease dependence on immediate humanitarian aid and empower individuals to address challenges independently, preserving their dignity and self-sufficiency.
To enhance the humanitarian system in the country, the HCT is taking part in the three-year initiative "Enhancing Resilient Communities (ERC)," which aims to leverage Filipino expertise, bridge the gap between humanitarian and development sectors, involve communities in decision-making resilience building, and foster alliances for shared goals to better prepare for future climate change scenarios. The ERC focuses on community engagement, cross-sector partnerships, and learning from community practices to improve disaster relief and response systems to increase climate resilience.
"Today, we commemorate the resilience and strength of the Filipino people, who have rebuilt their lives and communities in the face of adversity. We must continue to learn from the lessons of Haiyan to better prepare for future disasters made even more challenging by climate change. Together with the government, we are committed to investing in disaster risk reduction and innovative solutions such as anticipatory action and to deepening our collaboration in building a more resilient Philippines," said UN Resident and Humanitarian Coordinator Gustavo Gonzalez.
The HCT invites our partners, government, and civil society to recommit to stand ready to serve communities with a steadfast and united response when it is needed. With climate change exacerbating extreme weather events, we stand in solidarity to ensure that our efforts prioritize inclusivity and sustainability, placing the most vulnerable at the forefront of our work so that no one is left behind in disaster response and recovery.
Snapshot of HCT Response to Super Typhoon Haiyan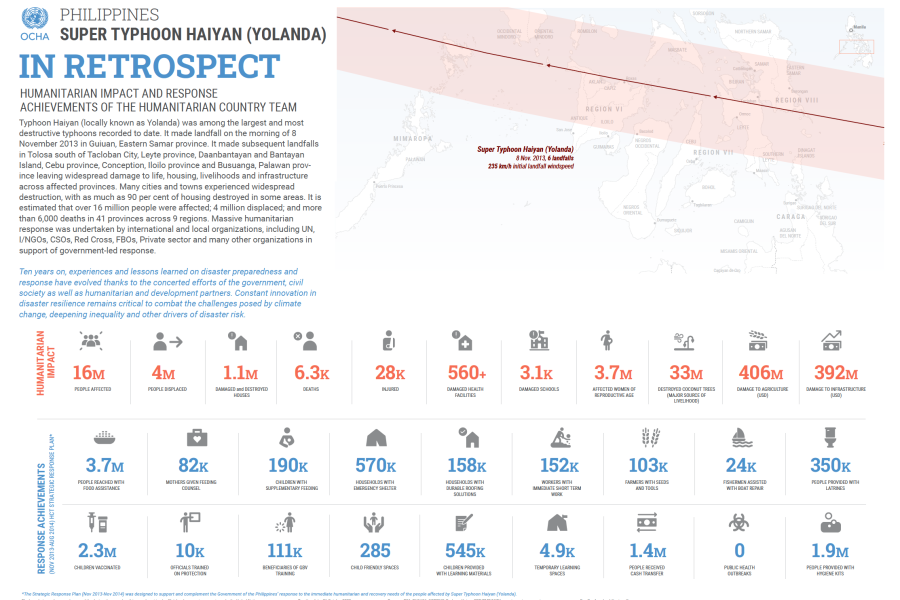 About the HCT (2023)
The Philippines Humanitarian Country Team (HCT), under the leadership of the UN Resident Coordinator and Humanitarian Coordinator Gustavo Gonzalez, ensures that humanitarian action by its members is well coordinated, principled, timely, effective and efficient. The HCT acts in support of and in coordination with national and local authorities with the objective of ensuring that inter-agency humanitarian action alleviates human suffering and protects the lives, livelihoods and dignity of people in need. The HCT members include Humanitarian Coordinator – Chair, FAO, IOM, OCHA, UNDP, UNFPA, UN-HABITAT, UNHCR, UNICEF, WFP, WHO, Save the Children (co-lead for Education Cluster), Action Against Hunger, ADRA, CFSI (PINGON co-convener), CARE, Oxfam (PINGON convener), Disaster Risk Reduction Network Philippines, Philippine Partnership for Emergency Response and Resilience, UN Civil Society Assembly. Observers include UN Resident Coordinator Office, UNDSS, International Committee of the Red Cross, International Federation of the Red Cross and Red Crescent Societies, Philippine Red Cross, Embassy of Australia, ECHO, Embassy of Japan, Spain/AECID, USAID and PDRF. OCHA provides secretariat support to the HCT.
UN entities involved in this initiative
FAO
Food and Agriculture Organization of the United Nations
IOM
International Organization for Migration
OCHA
United Nations Office for the Coordination of Humanitarian Affairs
UN-Habitat
United Nations Human Settlements Programme
UNDP
United Nations Development Programme
UNFPA
United Nations Population Fund
UNHCR
United Nations High Commissioner for Refugees
UNICEF
United Nations Children's Fund
WHO
World Health Organization