Story
Nationwide animation contest rallies creative minds to end open defecation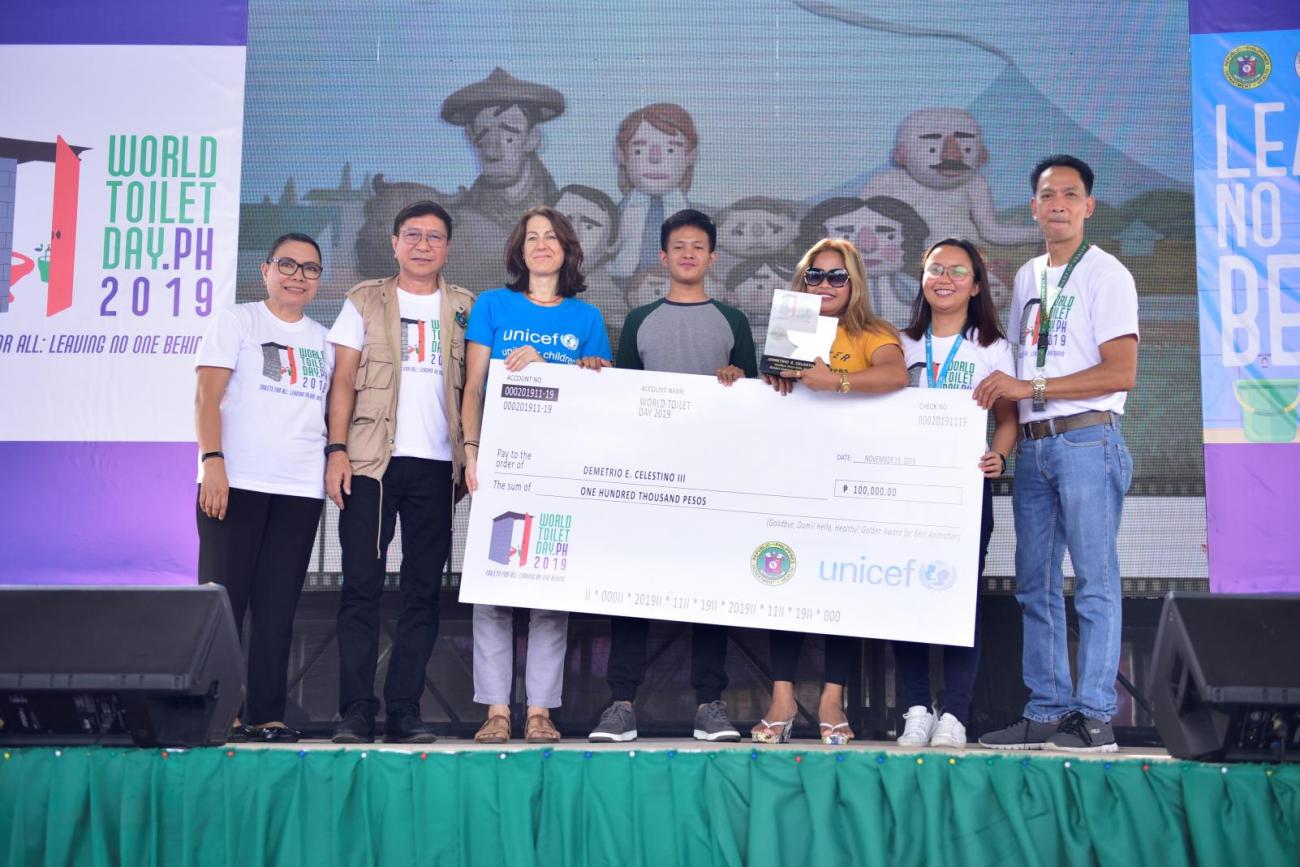 17-year-old wins national animation contest in support of UNICEF's Zero Open Defecation campaign
Imagine your surroundings littered with feces and swarming with flies. Then, suddenly a fly hovers above your meal. Tough luck if it lands on your food, but think even further: who knows where it came from?
This is a reality in many areas in the Philippines where toilets are lacking and people are still practicing open defecation which makes it easy for flies to spread diseases. In response, the Department of Health (DOH) has been running awareness campaigns for years about fecal-oral transmission of germs by flies. Ending open defecation throughout the country isn't just about unlearning the habit—it needs a total shift to a clean and sanitary lifestyle.
Award-winning communication strategy
Goodbye Dumi! Hello Healthy! (GDHH) is a strategy developed by UNICEF and the Center for Health Solutions and Innovation for DOH, to support the Zero Open Defecation (ZOD) Program. It has received a number of Anvil and Quill communication and social development awards.
In place since 2014, it informs people how open defecation leads to the transmission of diseases. The strategy reinforces core messages on using the toilet properly and washing one's hands with soap. It also uses creative and fun activities such as community theater and health classes.
During the pilot run, households using sanitary toilets increased from 58 to 85 percent, and 24 out of 54 barangays were declared ZOD in just eight months. DOH has since rolled out GDHH to all regions of the country where the ZOD program is present.
A contest like no other
In August of this year, DOH and UNICEF launched the GDHH Animation Contest—inspired by the GDHH community theater play—open to amateur Filipino animators aged 17 and above. Winning entries will be used by DOH and the Department of Education (DepEd) in communities and schools nationwide and on social media to raise awareness on the importance of sanitation.
While music and storyline were provided based on the existing GDHH play, animators were free to narrate an excerpt from the play using their choice of animation techniques—traditional, 2D, 3D, clay, and stop motion animation.
Ten entries made it to the final round for creating the best interpretation of the story about a disease outbreak in the fictional Barangay Olimpio. The story revolves around four friends who discover that open defecation practices have contaminated their food and water sources, creating a breeding ground for Lady B (for bangaw or fly) and her Taembayan fly bullies. In the end, the friends convince the community to work together to end open defecation.
Link to video on it's hosted site.
Gold Award for Best Animation
The stop motion claymation entry "Hello, Love, Goodbye Dumi" bagged the Gold Award for Best Animation and PHP100,000, the competition's top prize.
The judges were impressed at how the animator used soft-toned animation to combine a romantic comedy about the relationship between a fly and a poop – Lady B and Ebak, respectively; with a moving story of a community determined to end the curse of sickness in their barangay.
The video was also well received for its share of popular culture references such as the scene where a defeated Lady B stares at a profile picture of her and Ebak which received hundreds of 'likes' on social media; and performances by '21 Flylots', the resident fly band.
The project took more than a month to finish and is the result of the hard work of a one-man team, Demetrio Celestino III. He is in his last year in college and the art editor of the official paper of Catanduanes State University.
"As a child, I've always wanted to be an animator," he said. "It's the dream job of kids who love to draw." Demetrio has won at several local and international competitions using both traditional and digital art. His work in his college publication and interest in video editing, photography and poetry prepared him for this competition.
"I found the theme for this contest funny at first, but then as I went along with, I learned many things. It was only then that I found out that this was a serious matter," Demetrio said.
Behind the scenes at Demetrio's studio while shooting his stop-motion clay animation film. 2019/Demetrio Celestino III
The winner's circle
Six judges from DOH, DepEd, Animation Council of the Philippines, UNICEF and Little Hands, a youth volunteer group from the University of Philippines Manila, selected the top three winners. Netizens selected the winner of the People's Choice Award for Best Animation through online sharing of fan favorites from the top 10 entries uploaded to the DOH Facebook page. 
The winners received their awards during the World Toilet Day celebration on November 19 in Baseco, Manila City.
Taking the Silver Award and PHP75,000 was another fan favorite by Jing Carlo Laya. It used a public service announcement approach combined with pastel-colored drawings, making the finished product look as though it leapt out of a postcard. On receiving his prize, Jong commented, "I hope this encourages the building of more toilets… to avoid the bad effects of open defecation practice."
The mini-musical claymation "Ang Mali, Itama!" by husband and wife team Eric and Jeswinda Montalban won the Bronze Award and PHP50,000. The Montalbans used vibrant colors and dynamic storytelling that was heartwarming and enjoyable for both children and adults. 
College students from the Creative Media Artists Society (CMAS) of Polytechnic University of the Philippines won the People's Choice Award and PHP25,000 for "K-Tropa"  a Gravity Falls-inspired 2D animation with 8.3k shares.
Shena Macabadbbad of PUP CMAS hopes that the GDHH Animation Contest opens more opportunities for artists to express their craft with a purpose. 
"I'm very proud of our animators for producing great animation at such a young age," she said. "[It shows that] their hearts are really in the arts," she said.
"We are delighted with the quality of the winning entries," said Louise Maule, UNICEF Philippines Chief of Water, Sanitation and Hygiene. "These materials will help us to create social demand for open defecation practices to end in the Philippines."
UN entities involved in this initiative
UNICEF
United Nations Children's Fund