Press Release
Young Filipino innovators gather for UNDP Youth Social Innovation Lab
21 November 2019
UNDP organizes hackathon to showcase ideas of young innovative Filipinos to promote social inclusion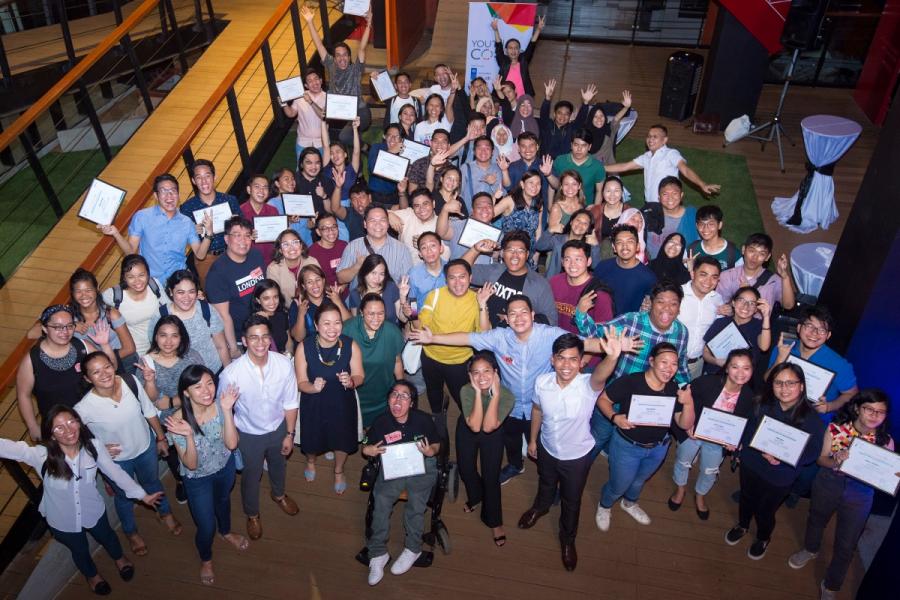 MANILA, Philippines – More than 100 young innovators, mentors and stakeholders attended the 2019 Youth Social Innovation Lab, held on 18 and 19 November and hosted by Youth Co:Lab Philippines in partnership with makesense, co-led by Citi Foundation. The participants, who come from different youth sectors all over the Philippines were selected to come together to pitch and develop their ideas for socially inclusive sustainable enterprises. With the theme "Social Inclusion," the two-day hackathon held at the Benilde Hub of Innovation for Inclusion (HiFi) showcased the ideas of innovative Filipinos aged 15-30, including high school and university students, new graduates, youth affected by conflicts and/or disasters, LGBT+, differently-abled youth, and those from ethnic and religious minorities.
Through intensive integrated learning sessions rooted on human-centered and design thinking methods, participating youth were grouped together and had the opportunity to be mentored by experts to develop and harness their ideas into tangible and marketable solutions. The teams then had to pitch their ideas to a board of jurors to clinch a spot at the Youth Co:Lab Regional Summit in Kuala Lumpur, Malaysia, April next year, where they will have an opportunity to participate in a competition among fellow youth innovators across the Asia-Pacific region.
Five groups were selected  - AccesiWheels (first place) is a ride-hailing mobile application designed for persons with disabilities by persons with disabilities; #Ethnicoco (second place) is an enterprise driven to innovate high value-added products from devalued coconut agriculture wastes produced by indigenous communities; Transkonek (third place) is an online platform linking transgenders to job opportunities and other support services; Project Ka-sama (fourth place) is a virtual learning environment offering mental health and counseling classes to people with chronic medical conditions; and Greenhows (fifth place) is a co-creation lab that harnesses the ideas and potential of students, local artists, and people from displaced communities through stories and exhibitions, environmental campaigns, commerce, and capacity building.
The Youth Social Innovation Lab (YSIL) is hosted by Youth Co:Lab (YCL) Philippines in partnership with makesense. The initiative is also part of the first-ever Philippine Startup Week organized by the Department of Trade and Industry (DTI), Department of Science and Technology (DOST), and the Department of Information and Communications Technology (DICT.)     
Co-created in 2017 by the United Nations Development Programme (UNDP) and Citi Foundation, Youth Co:Lab aims to establish a common agenda for countries in the Asia-Pacific region to empower and invest in youth, so that they can  accelerate the  implementation of the Sustainable Development Goals (SDGs) through leadership, social innovation and entrepreneurship.
"Across our work towards achieving sustainable development, the youth has always been seen as agents and accelerators of change, with much of their future at stake. In the Philippines, approximately 30% of its population is made up of young people. That's 32 million Filipino youth who we see as an invaluable resource that can make significant contributions to development impact through leadership, innovation, and entrepreneurship. We believe that we should harness that resource and keep them informed, inspired, and involved," notes Enrico Gaveglia, Deputy Resident Representative of UNDP Philippines.
Lisa Coory, Head of Public Affairs at Citi Philippines, expressed Citi's support of the initiative. "Our employee mentors who shared financial and technology expertise were greatly impressed by the breadth of innovative ideas. We congratulate all participants for taking the initiative to solve important problems affecting our communities and we look forward to cheering on the selected teams from the Philippines at the Regional Summit where they will join fellow youth from 24 other Asia-Pacific countries in April 2020."  
In order to establish an avenue to further support the rest of the participants of the Youth Social Innovation Lab, Youth Co:Lab and makesense will organize the first National Springboard Programme, a three-week online sprint to train young innovators who are in the ideation phase to learn the basics of entrepreneurship and have the opportunity to build prototypes for their solutions.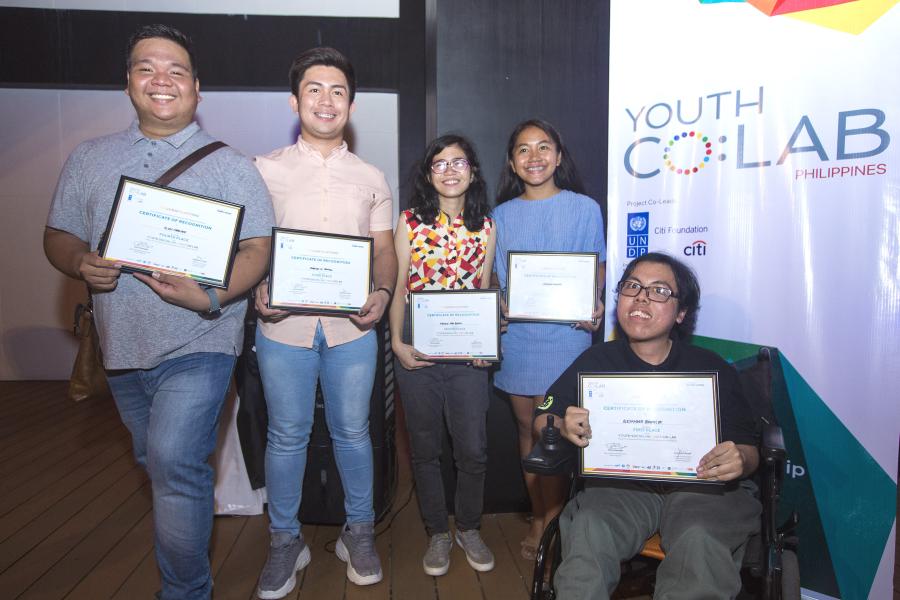 UN entities involved in this initiative
UNDP
United Nations Development Programme