FAO, Tourism Department sign partnership pact to promote farm tourism, agriculture
New alliance aims to support recovery of tourism and agriculture sectors in the Philippines devastated by COVID-19 crisis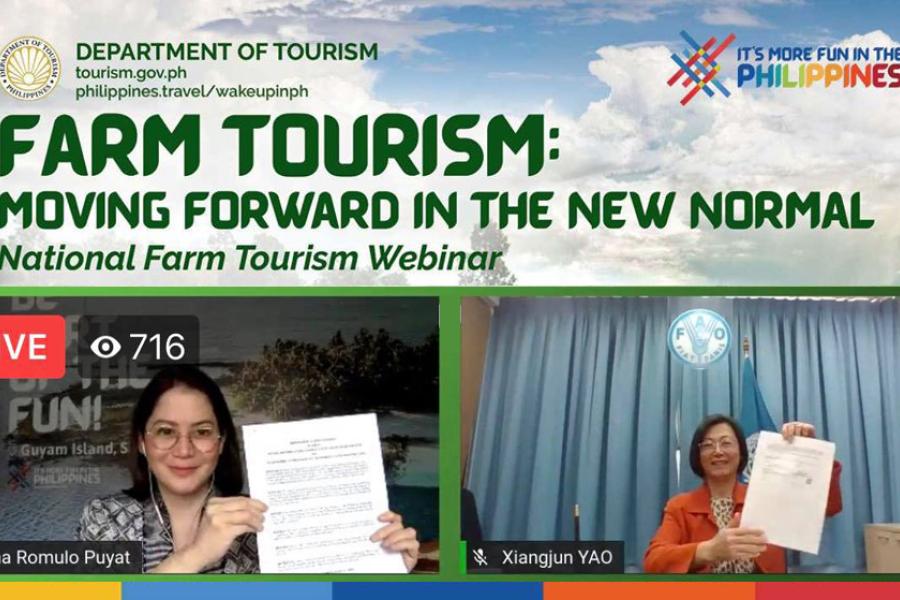 Photo | FAO
DOT, FAO sign partnership pact to promote farm tourism, agriculture
As part of its efforts to help revive the Philippines' tourism industry devastated by the COVID-19 pandemic, the Department of Tourism (DOT) and FAO Philippines has signed an agreement that formalized the two agencies' partnership and commitment to push for more farm tourism development in the country.
The ceremonial signing of the Memorandum of Understanding (MoU) was part of a DOT-organized National Farm Tourism webinar entitled "Farm Tourism: Moving Forward in the New Normal" which was streamed live via the DOT's Facebook page on 16 June. The MoU was signed by DOT Secretary Bernadette Romulo-Puyat and FAO Representative ad interim in the Philippines Ms Xiangjun Yao.
The new alliance will focus on three areas: enhancing coherence between tourism and agriculture programming in the country; provide technical support on capacity building, research and development, marketing and advocacy, and technological development to promote farm tourism development; and conduct pilot activities to select farm tourism sites.
For a period of three years, the DOT and FAO will consolidate, develop and detail their cooperation and effectiveness in linking farm tourism to sustainable agriculture practices.
Secretary Puyat indicated that the collaboration with FAO is a key part of her agency's response to the impact of the pandemic to the tourism industry in the country.
"With this new partnership, we aim to link farm tourism to sustainable agricultural practices and better access to infrastructure that promote rural development," she said.
"Farm tourism holds the promise of food sufficiency and additional income for tourism stakeholders, including farmers, farm workers and fisher folk. Harnessed properly, it can be an important pillar for employment, productivity and ensuring sustainable livelihoods," the DOT secretary added.
"This partnership with the DOT will truly ignite the development and the recovery of the tourism and agriculture sectors in the Philippines, which were both heavily devastated by the prevailing pandemic," Ms Yao reiterated.
"FAO has been working with the Government of the Philippines, civil society, community-based organizations and other private sectors for more than four decades in addressing challenges in the agriculture, fisheries and forestry sector. I believe this is the first time that FAO is collaborating directly with the DOT," she added.
"Farm tourism will help us meet the needs of an evolving food system by bringing economic opportunities such as generation of local employment and expansion of market prospects for agricultural commodities. It would also help in promoting the agricultural heritage of the country and contribute to rural development and sustainable eco-system," Ms Yao concluded.
UN entities involved in this initiative
FAO
Food and Agriculture Organization of the United Nations