UNAIDS and partners deploy bikes to bring love and care to Persons with HIV
The "Love on Wheels" Project makes use of electric bikes to make door-to-door delivery of life-saving treatment to Persons with HIV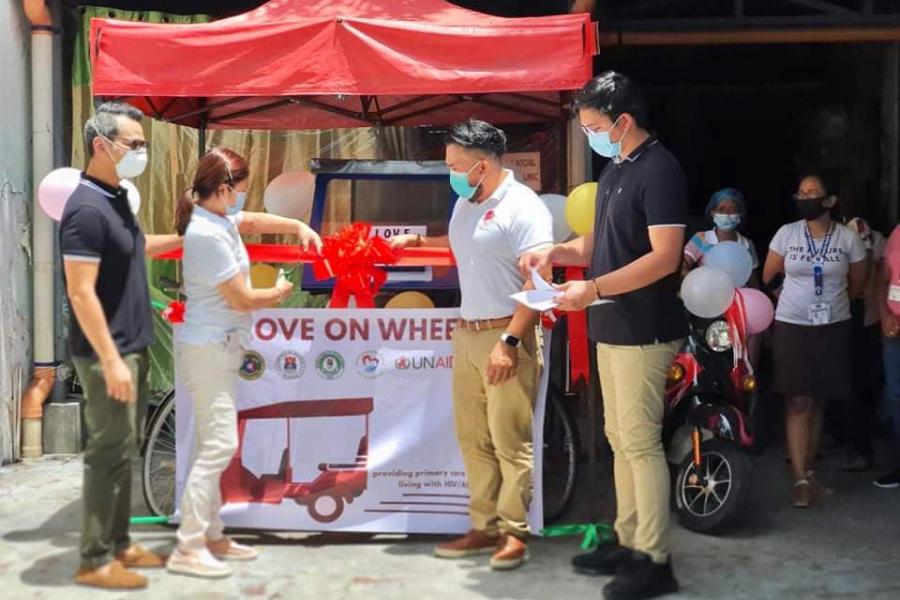 Photo | UNAIDS
MANILA, 23 June 2020--The COVID-19 pandemic and the quarantine rules imposed by the Government of the Philippines to curb the spread of the disease are impacting the lives of people living with HIV across the country, creating a serious challenge to accessing life-saving antiretroviral (ARV) therapy.
To address the challenges of the COVID-19 pandemic to the HIV Program, the Manila Social Hygiene Clinic in partnership with The Project Red Ribbon, UNAIDS and the Department of Health - Center for Health Development of Metro Manila have launched the Love on Wheels Project in Manila today.
The Love on Wheels Project makes use of electric bikes to deliver ARV, HIV screening kits, condoms, lubricants to Persons with HIV, and then to bring specimens to labs, get the results from the hospital, as well as to transport health frontline workers. These Love on Wheels bikes are helping to ensure that Persons with HIV continue to receive care and treatment during this time when their access to the latter has been limited by quarantine restrictions.
Project Red Ribbon with its corporated partners donated the e-bikes. UNAIDS and DOH-MMCHD will be assisting with the monitoring and evaluation of the project.
Leading the launch today were Dr. Diana Mendoza, the head of the MSHC, Dr. Louie Ocampo the Country Director of UNAIDS, Mr. Benjamin Baguingan II of the DOH-CHDMM and Mr. Ico Rodulfo Johnson, the President of Project Red Ribbon.
UN entities involved in this initiative
UNAIDS
Joint United Nations Programme on HIV/AIDS