Preserving an indigenous community with lifesaving vaccines
UNICEF visited the Aeta community in Sitio Target, in Angeles City, Pampanga, as part of its support to the Department of Health's polio vaccination programme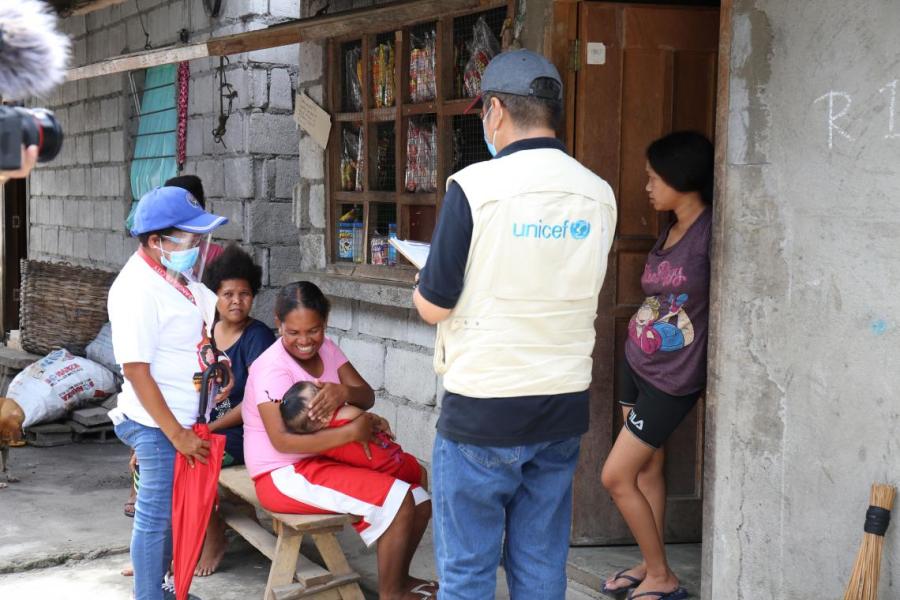 Photo | UNICEF Philippines/2020/Jacques Gimeno
For barangay health worker Elvie Mendoza, 46, bringing health services to her community is not just a task. When so much is riding on her commitment to reach Aeta families in her barangay (village), she can't help but be proud of how they've been thriving in the last few years.
Elvie is an Aeta, an indigenous group that inhabited the Province of Zambales (254 km from Manila) some 20,000 years ago until they were displaced to different parts of Luzon when migrants arrived in the island. Many of them settled at the foot of Mt. Pinatubo which became their home for decades.
Then when Mt. Pinatubo erupted on June 15, 1991, the second-largest volcanic eruption of the 20th century, it upended the lives of at least 20,000 Aetas who were forced to settle in the lowlands.
Three decades since the fateful event, a small group of them have been rebuilding their community in Sitio Target, Bgy. Sapang Bato, Angeles City in the neighboring province of Pampanga. From the initial four families in 1995, the sitio is now home to 263 families who continue to work the land as farmers.
When UNICEF visited the community as part of its support to the Department of Health's (DOH) polio vaccination programme, Elvie and her colleagues shared that all 199 eligible children in the sitio received their vaccine. This is a welcome development as DOH has been ramping up efforts to increase coverage since polio re-emerged in the country 20 years after it was eradicated.
We're very thankful because even if we live in the mountains, they come to us, they don't forget us.

-- Lilia Salvador
Reaching the Aeta children with the lifesaving vaccine is particularly important because access to indigenous communities has always been challenging.
"I'm determined to encourage them because there are very few of us," Elvie says, noting that she's been doing this since 2006 and not even the COVID-19 pandemic has slowed her down.
Lilia Salvador, a 33-year-old mother of three, has learned a lot about vaccines from Elvie. 
"I decided [to vaccinate my child] to avoid the common childhood diseases," she shares, "That's why I convince [other parents] to vaccinate."
"We had poor health in the early days. Now that we can fight off diseases, we should no longer get sick," says Elvie as she constantly reminds them about the importance of vaccines. Alongside improved health services, the community also enjoys clean water and improved basic education.
Lilian credits people like Elvie for her children receiving the required childhood vaccines.
We're very thankful because even if we live in the mountains, they come to us, they don't forget us.
Note:
For the latest round of polio vaccination held in July and August, UNICEF supported DOH through:
Procuring and delivering 4,106,644 doses polio vaccines (mOPV2), 370,000 face masks and 15,000 face shields; and printing and distributing around 230,000 IEC materials;
Providing training in RCCE and in infection prevention and control during the polio campaign to 1,095 essential frontline health workers and other essential workers; 
Developing polio campaign guidelines including IPC in COVID-19 context, assessment and monitoring tools, and polio communication plan and IEC materials.
UN entities involved in this initiative
UNICEF
United Nations Children's Fund