15 September 2020 | 4:00 PM - 15 December 2020 | 3:59 PM
UNStoppable YOUth: Shaping the Future We Want
National Visual Arts competition launched by UN Philippines as part of the Philippines' contribution to the UN75 Campaign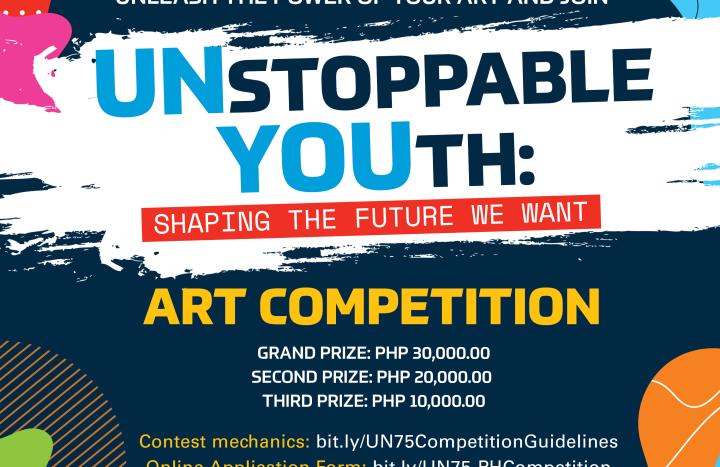 UN entities involved in this initiative
UN
Sustainable Development Goals
No Poverty
Zero Hunger
Good Health and Well-being
Quality Education
Gender Equality
Clean Water and Sanitation
Affordable and Clean Energy
Decent Work and Economic Growth
Industry, Innovation and Infrastructure
Reduced Inequalities
Sustainable Cities and Communities
Responsible Consumption and Production
Climate Action
Life Below Water
Life on Land
Partnerships for the Goals
Contact information
katipon@dakila.org.ph
Location
Mandaluyong
United Nations in the Philippines, 15th Floor, Rockwell Business Center
Sheridan North Tower
Philippines
15 September 2020 | 4:00 PM - 15 December 2020 | 3:59 PM
About the initiative
The power of the creative form is its ability to shape the consciousness of its audience. It allows audiences to understand concepts and conditions on human struggles and enables them to convey their insights and convictions on social causes. Art reflects these narratives of human condition. At the same time, it contributes to shaping the conditions of the very people whose stories it narrates.
As the world face a global crisis, how can art help shape a better narrative for the Philippines? How does the youth of today envision a Philippines beyond the disruption of the COVID-19 pandemic?
In celebration of the 75th year of the United Nations in the Philippines, we banner today's youth spirit, courage, and creativity in envisioning a better Philippines that we deserve.
Unleash the power of your art and join UNstoppable YOUth: Shaping the Future We Want Arts Competition!
Contest guidelines are found here: bit.ly/UN75CompetitionGuidelines
The Application Form is found here: bit.ly/UN75-PHCompetition